industry news
The Latest Industry News for the Exciting World of Production.
Creative Handbook puts together a bi-monthly newsletter featuring up-to-date information on events, news and industry changes.
Add My Email
There's Still Time to Order Budget-Friendly Easter Decor & Supplies!

By: Rose Brand
| March 19, 2019
No time to dawdle now. Easter is almost here. Build your design with our in-stock offerings of Fabrics, Projection Surfaces, Tape, DMX Programmable Motion Solutions, Hardware, Paint and more! Rose Brand also produces custom curtains and has the largest inventory of rental drapery in the country. For more information, see below...
Enables quick & easy access to the exact fabric you need.
Search by color and/or any combination of characteristics. Quick, easy and fun!
The indispensable expendable in any production! Tape available
by the roll or case. Discounts for 2" gaffer's tape sales by the case.
We produce thousands of custom curtains and drapes every year,
quickly and expertly. We can help you with...
Read More>>

LCW Pros Contributed to Captain Marvel!

By: LCW Props Hollywood, Georgia, New York
| March 19, 2019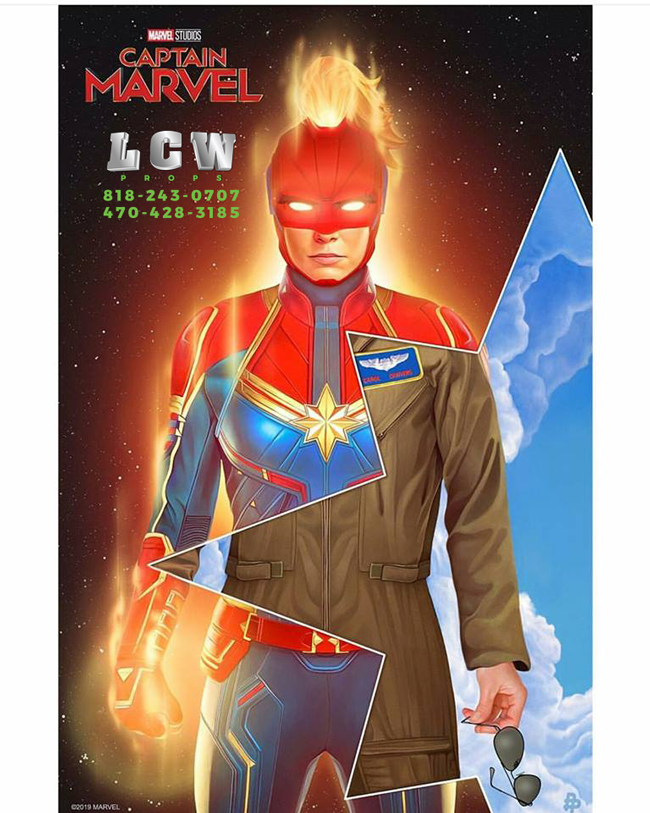 Captain Marvel is definitely one for the record books, the all-star cast has you on the edge of your seat!! We can't wait to see it again. LCW Props feels very blessed that they had a small part in the making of it.
ABOUT LCW PROPS
Largest online selection in...
Read More>>
April 4: You're invited to AFCI Week's 'Taste of the World Locations Show'

By: Association of Film Commissioners Intl (AFCI)
| March 18, 2019

You are invited to join global film commission representatives and production industry professionals on Thursday, April 4 (3 p.m. - 7 p.m.) at The London Hotel in West Hollywood for the TASTE OF THE WORLD LOCATIONS SHOW, presented by the Association of Film Commissioners International (AFCI) as part of the AFCI Week 2019 event series.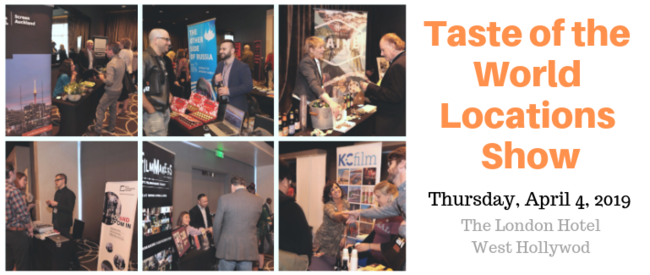 More than 60 film commission representatives from around the globe will...
Read More>>
The Inaugural See it - End it! Human Trafficking Film & Arts Festival Partners with YWCA Harbor Area & South Bay to Increase Community Awareness & Resources

By: The Inaugural See it - End it! Human Trafficking Film & Arts Festival
| March 16, 2019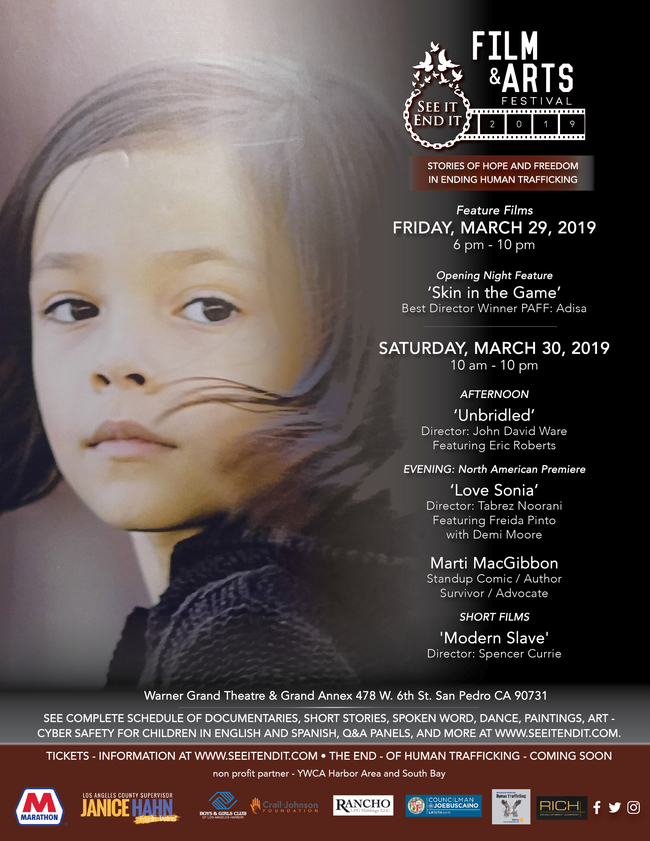 The 2019 Inaugural See it - End it! Human Trafficking Film and Arts Festival will be held on Friday, March 29th, 2019, from 6 pm - 10 pm, and Saturday, March 30th, 2019, from 10 am - 10 pm, at the historic Warner Grand Theatre and Grand Vision Annex at 478 West 6th Street in San Pedro, CA. Through film and art, this two-day educational, preventative, and awareness building event will bring home this growing human rights violation, portraying not only the horror, but also the hope to end enslavement, more possible today than ever before. Through movies, appearances, and Q&As with filmmakers, survivors, celebrities, panelists, and experts in the field, attendees will not merely watch, but rise to take practical action steps. Performances and visual arts include paintings, dance, music, spoken word, and more. See it - End It's non-profit partner YWCA Harbor Area & South Bay continues to...
Read More>>
Dawn Animal Agency Provides Creatures on Camera

By: Dawn Animal Agency
| March 15, 2019
NEED TO CAST CATTLE, camels or canines in your next production? Dawn Animal Agency has been providing creatures on camera in NYC productions for more than five decades and with a bit of coordination from the Mayor's Office of Film, Theatre and Broadcasting. We have trained swans, chickens, all sorts of pet birds, peacocks, cows, sheep, goats, monkeys, all sorts of horses, ponies, camels, wolves, dogs, cats, zebra, pigs, bugs, snakes, rodents of all shapes and sizes all on our farm... please remember these animals help support the less fortunate animals we have in our
Sanctuary
.
Bambi Brook, a third-generation family member in the business, has run 16 elephants down Wall Street for Letterman, staged a 60-member dog show at Roseland for Sex and the City, and herded 24 cows and 16 horses through Times Square for Good Morning America. Her family operates a...
Read More>>
Pursuit Aviation: Aerial Cinematography Is In Our Blood

By: Pursuit Aviation
| March 14, 2019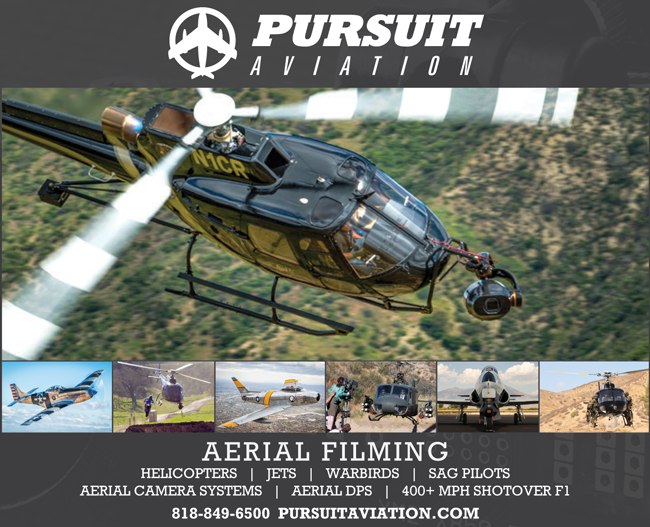 Our vast experience working on a variety of projects that span film, television and commercials is second to none. Whether flying close formation with U.S. Air Force fighters, documenting the Great Wildebeest Migration across the Serengeti, chasing cars on-set or performing stunts in WWII-era airplanes for major films, we've done it all. Take a look at our recent work and let us know how we can help you.
URBAN/COMMERCIAL
Steve Martin's Working Wildlife

By: Steve Martin's Working Wildlife
| March 13, 2019
In the world of professional animal training, no name commands as much respect as Steve Martin's Working Wildlife. As a long-time consultant to the major motion picture industry, and champion of the "positive reinforcement" training methods by which many animal training companies regard as the modern standard of excellence, Steve Martin's Working Wildlife's expertise in animal behavior and original training methodology is an integral part of the entertainment business as we know it today. Working Wildlife specializes in over 100 unique "animal actors" who have starred in countless productions, including:
Feature Films | Television Series | Commercials | Videos | Stills & Print Ads | Album Covers | Private Parties | Live Events | Charitable Events | Educational Programs | Community Parades | and much more!
Our animal trainers are specialized professionals, qualified to discuss the details of your shoot, project, or event, which will insure a safe,...
Read More>>
ISLE was invited to the annual meeting of Sign Industry Association of Shandong

By: ISLE
| March 12, 2019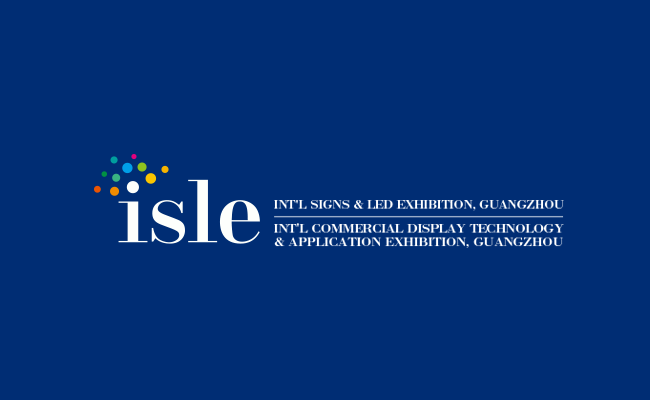 ISLE was invited to the annual meeting of Sign Industry Association of Shandong Province in China. ISLE met many good friends from Sign industry which would pariticipate in 2019ISLE. Different type different price differet style of sign, you could...
Read More>>
NAB Announces 2019 Digital Leadership Award Recipient

By: NAB Show
| March 11, 2019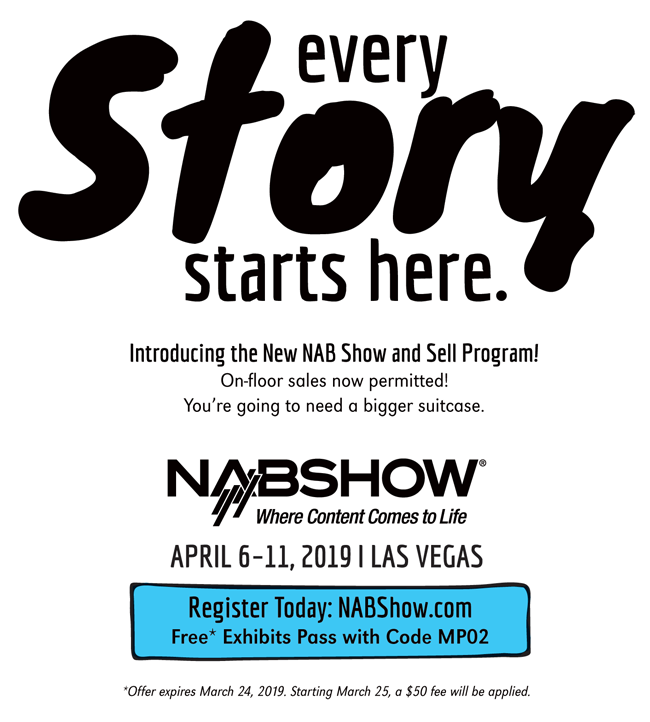 The National Association of Broadcasters (NAB) will present the Digital Leadership Award to Wendy McMahon, president, ABC Owned Television Stations Group, at the 2019 NAB Show in Las Vegas. The award presentation will take place at the Achievement in Broadcasting Dinner on Monday, April 8.
Established in 2015, the Digital Leadership Award honors an individual at a broadcast station, group or network who has had a significant role in transforming a traditional broadcast business to succeed on digital media platforms.
McMahon oversees the company's local television stations and their digital assets. In her role, she guides the modernization efforts of the Group's leading local news and information brands with a focus on next-gen storytelling, capabilities and distribution.
Key initiatives include the expansion of the stations' multiplatform content portfolios and reach as demonstrated by the launch of the highly successful digital brand, Localish, as well as the pioneering...
Read More>>
Bring your production to life. With the help of the professional stagehands of IATSE Local 33, your shows are on time, on budget and professional.

By: I.A.T.S.E. Local 33 Stagehands
| March 8, 2019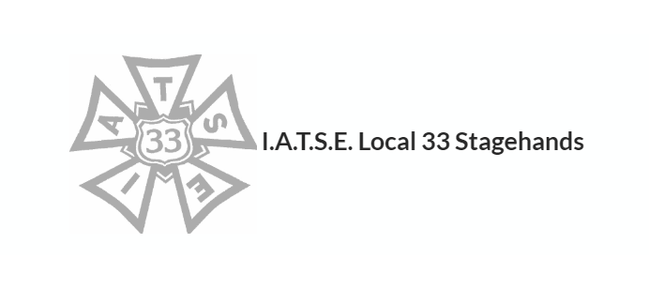 With over 120 years of experience, IASTE Local 33 has historical roots in not only legitamite live theater productions, but also were the first stagehand employees servicing the needs of motion pictures and the very first televsion shows. Our stagehand trade has been passed down from generation to generation and has evolved with the decades and the introduction of state of the art technology in lighting, video, audio, rigging and automation. We have successful, skilled and talented stagehands in several important specialties that work together synergetically as a team to meet your production vision you have imagined and also the needs that often develop on the fly when building your show. What ever the challenge, we work hard and professionally to make sure things work. No matter what, your show must go on!
We have worked in many popular venues in...
Read More>>
America's Got Talent Winner Darci Lynne Visits Remmet Studios

By: Remmet Studios
| March 7, 2019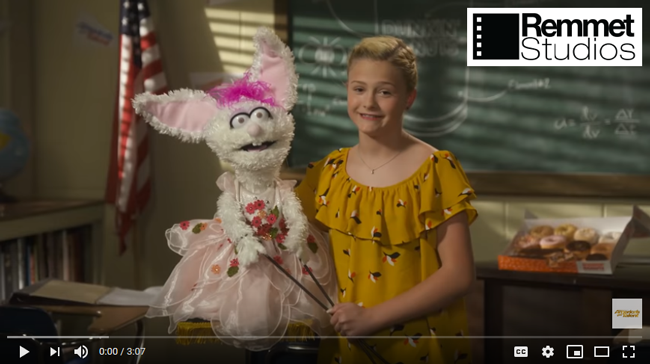 America's Got Talent Season 12 winner, Darci Lynne, teaches the basics of ventriloquism. Learn how to use the ventriloquist's alphabet and create realistic puppets from one of the best in the world! This clip and many more for America's Got Talent University shot here at Remmet Studios!
Remmet Studio's Mission
Remmet Studios is committed to providing clean and value driven production space. We offer...
Read More>>
Mob Scene Names Award Winning Editors Josh Beaumont and Chris Nesheim As Co-Creative Directors Within the Agency's Theatrical Division


By: Mob Scene
| March 6, 2019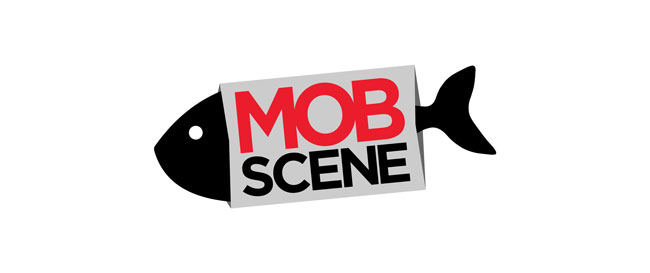 Mob Scene
, one of Hollywood's leading entertainment marketing agencies for major motion picture studios, television networks, and streaming channels, has named award winning Editors Josh Beaumont and Chris Nesheim as Co-Creative Directors, Theatrical. They will both report to Craig A. Platt, Mob Scene's Executive Vice President, Theatrical. The announcement was made today by Thomas Grane, CEO, Mob Scene.
Mob Scene's Theatrical Division works with the top movie studios and streaming networks to create and produce trailers, TV, and digital spots. The division works with studio executives to influence the creative strategy behind high profile campaigns promoting both major theatrical releases, as well as films and documentaries presented by the top streaming platforms.
In their new positions, Beaumont and Nesheim will continue their editorial work, while also collaborating with Platt to innovate and push the creative work of the Theatrical division. This will include business and creative...
Read More>>
2019 Hawaii International Film Festival Spring Showcase

By: Hawaii International Film Festival
| March 5, 2019
The 22nd Annual HIFF Spring Showcase presented by Halekulani is here! Taking place from April 5th-14th at Regal Dole Cannery Theaters in Honolulu, the Spring Showcase is HIFF's annual 'mini-festival', showcasing some of the best Spring season films from across...
Read More>>
ASPECT NAMES JASON CHAPPELLE, EXECUTIVE CREATIVE DIRECTOR: Chappelle had been SVP/Creative Director with mOcean

By: ASPECT
| March 4, 2019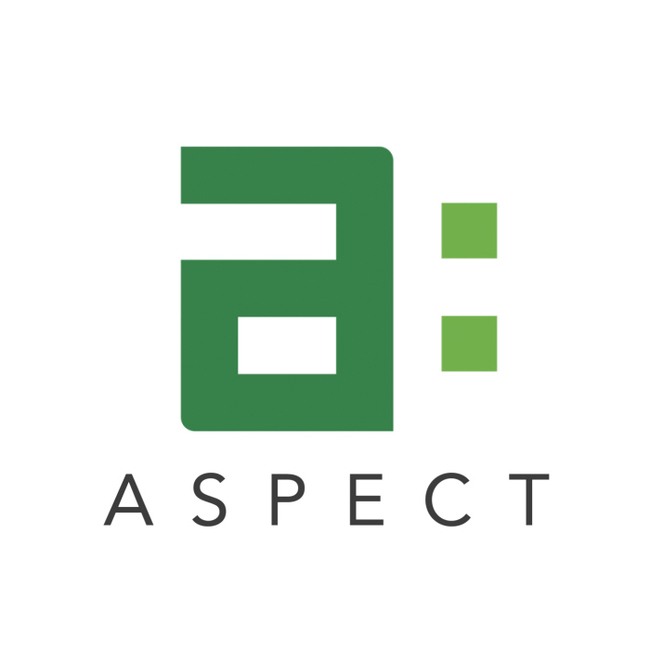 Hollywood, CA, March 4, 2019 - Aspect, a multi-award winning creative advertising agency that provides strategic marketing solutions across all entertainment platforms, has named Jason Chappelle as its new Executive Creative Director. The announcement was made by Lisa Feldman and Nati Braunstein, Co-Presidents and Creative Directors, Aspect.
Prior to joining Aspect, Chappelle had been a Senior Vice President and Creative Director at MOCEAN, where his most recent feature film campaigns included those for The LEGO Movie 2 and Alita: Battle Angel. In his new role with Aspect, he will be responsible for helping to secure new clients and projects; managing the high-level creative for those projects; and working closely with Feldman and Braunstein to chart the course for the agency's future.
"We're very excited to announce that Jason Chappelle has joined Aspect as our new Executive Creative Director," Feldman and Braunstein said. "He has years of experience...
Read More>>
AFI FEST 2019 Announces Key Dates and Call for Entries

By: American Film Institute
| March 4, 2019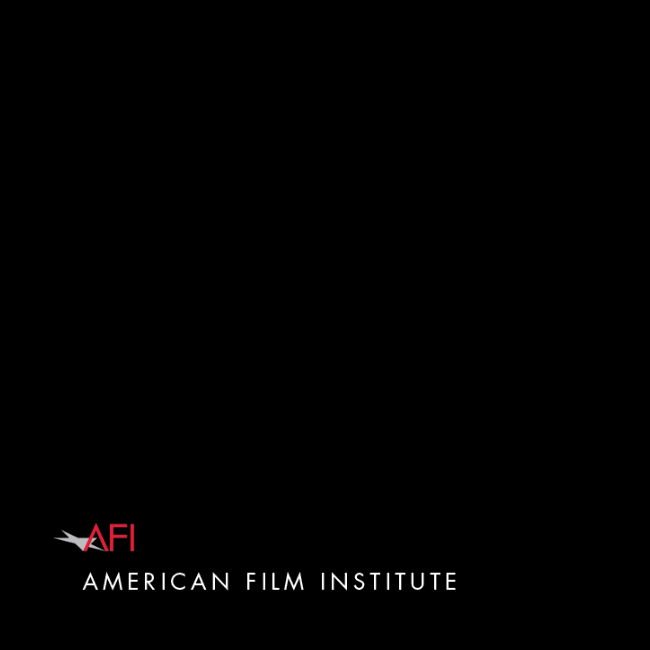 AFI FEST 2019 presented by Audi will take place in Hollywood, CA, from November 14-21, 2019. Entries are now being accepted and filmmakers are invited to submit feature, documentary, experimental, animated and short films at
AFI.com/AFIFEST
or through
FilmFreeway
.
AFI FEST will have submission deadlines - early, official and final - for fiction shorts (under 30 minutes), nonfiction shorts (under 40 minutes) and feature films. The Academy of Motion Picture Arts and Sciences recognizes AFI FEST as a qualifying festival for the Live Action and Animated Short Film categories for the annual Academy Awards®.
FEATURES AND SHORTS

Early Deadline - March 29
Official Deadline - May 3
Final Deadline - July 12

Audi will return as the exclusive Presenting Sponsor of AFI FEST, enabling the festival to host the very best of world cinema in Hollywood. Audi and their visionary support reflect a continuing...
Read More>>
Advantage Video Systems Launches NAB Show Resource Website

By: Advantage Video Systems
| February 28, 2019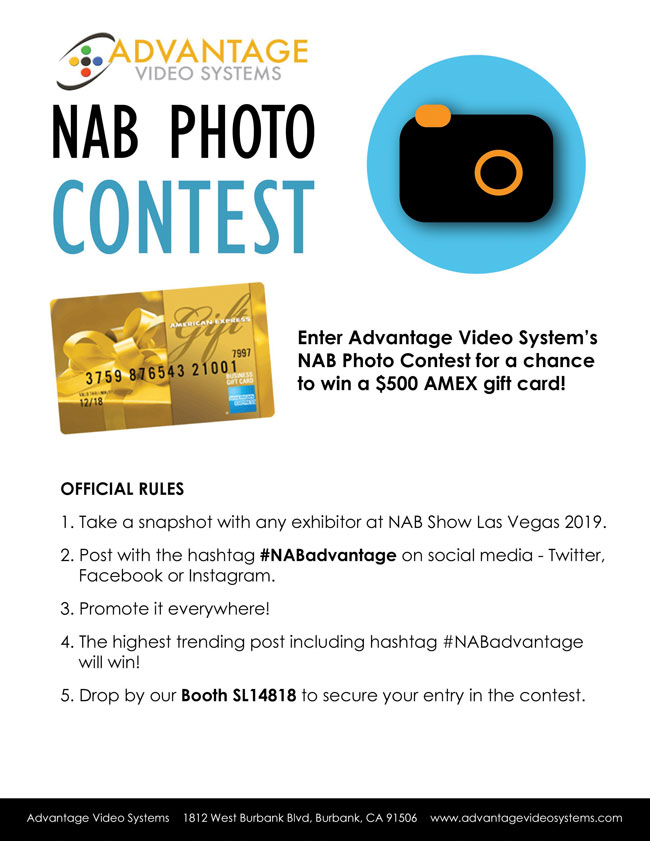 Advantage Video Systems Launches NAB Show Resource Website Burbank, CA, February 27, 2019 - Advantage Video Systems, a leading systems integrator for the media & entertainment industries, has recently launched a new NAB Show Resource website -
www.nabexposition.com
- to provide attendees free tools and helpful resources to make the most of the NAB Show April 6 - 11, 2019 in Las Vegas, NV.
The company is offering a
Complimentary Concierge Service
, providing visitors with a customized itinerary to streamline their trip to NAB Show. AVS representatives arrange meetings and tours with leading manufacturers of equipment and software as well as provide custom agendas with dates, times and locations of booths and/or suites.
"We've been attending this show for years - we know our way around. NAB has always been a valuable resource for our business and partners, so we wanted to offer the knowledge and helpful...
Read More>>
Get Lucky with our St. Patrick's Day Sale!

By: Step and Repeat LA
| February 27, 2019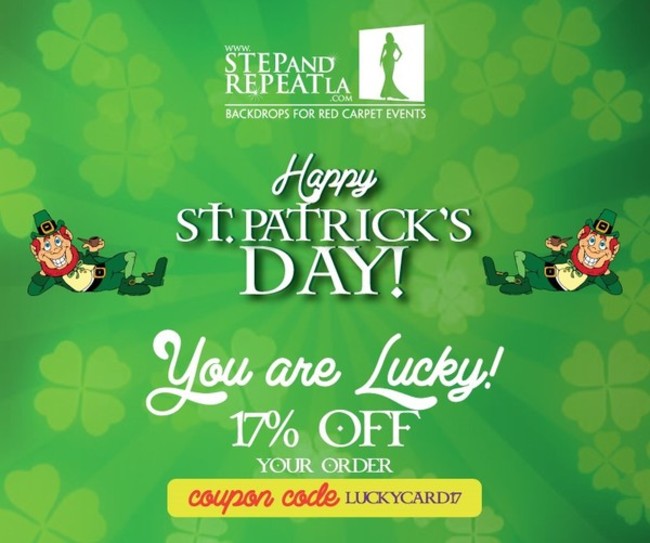 Step and Repeat LA is the leading red carpet company in the Los Angeles area.
We specialize in step and repeat backdrops for red carpet events. If you're looking for a red-carpet display, we are a one-stop shop for all your needs!
We are a tight crew, dedicated to creating the highest quality backdrops and media walls for VIP events. We have been in the sign business for over 40 years, and now specialize in red carpet displays.
Some of our reputable clients include Google, Disney, Nike, Hustler, Whole Foods, Harrah's Casino, and worked with event planners for fundraisers initiated by Rihanna, Sean Penn, Ian Somerhalder and more.
We have the exact technology, equipment, experience and knowledge to make a perfect red carpet display that dazzles guests and VIPs.
All of our printing and fabrication is done in-house. No printing job is too big for...
Read More>>
The ASC Welcomes Zhao Xiaoding as a New Active Member

By: The ASC
| February 26, 2019
Zhao Xiaoding
, ASC was born and raised in Beijing, China. After a three-year stint as a professional athlete, he attended the Beijing Film Academy and studied cinematography.
After serving as a camera operator and 2nd-unit director of photography on Hero (shot by
Christopher Doyle
, ASC, HKSC), Zhao was hired by the film's director,
Zhang Yimou
, on the wuxia (martial artist fantasy) romance film, House of Flying Daggers. For his work on the picture, Zhao was nominated for an Academy Award and BAFTA Award for Best Cinematography, won four awards and earned eight additional nominations.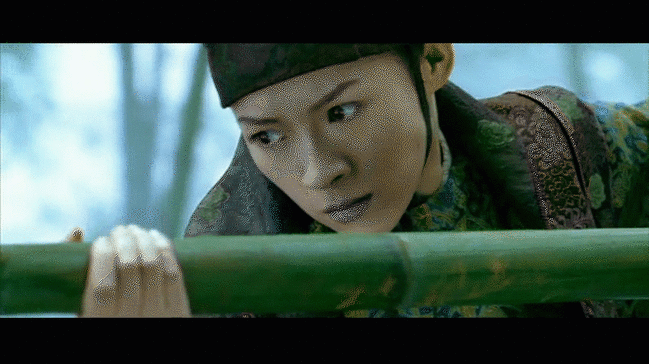 The project also spurred a longstanding professional relationship between Zhao and Zhang. The two have since collaborated on the features Curse of the Golden Flower (AC Jan. 2007); Riding Alone for Thousands of Miles; A Woman, a Gun and a Noodle Shop (aka...
Read More>>
THE FASTER TOGETHER STAGE COMES TO THE RIO APRIL 9TH

By: LumaForge
| February 25, 2019
In conjunction with Michael Horton, LumaForge will be creating a brand new version of The Faster Together Stage. The event will focus on the community and their passion for filmmaking.
LumaForge has hosted The Faster Together Stage for the last two years at NAB. It was their initiative to bring the post production community together through presentations from some of the top editors, colorists and VFX artists in the industry. From The Stage, they have produced 55 presentations, made free for the public online. On January 3, Michael Horton and Dan Berube announced that they would no longer be producing the SuperMeet at NAB Show. As long time attendees, the team at LumaForge personally felt the void the SuperMeet was leaving in the communal experience at NAB. So they decided to jump in and bring The Faster Together Stage to the Rio on Tuesday, April...
Read More>>
How to Load-Out an Opera in Under Two Minutes

By: IATSE Local #33
| February 22, 2019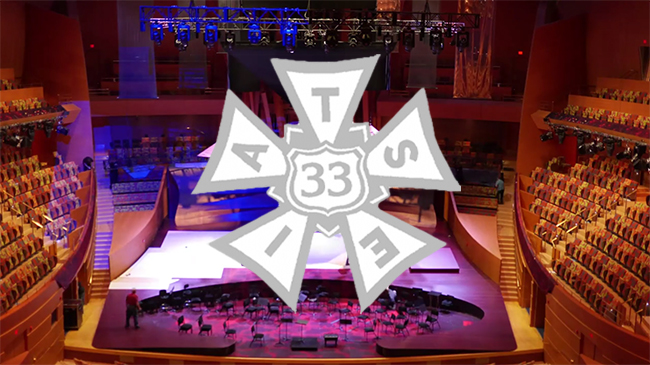 This time lapse was shot at the Walt Disney Concert Hall during the load out of Mozart's classic opera "The Marriage of Figaro". Special thanks to the hardworking members of IATSE Local #33, The Los Angeles Philharmonic, and the Walt Disney Concert Hall.
A documentary film about the revival and expansion of Huni Kuin culture, spirituality and vision.

By: Huni Kuin
| February 21, 2019
OUR GOAL
After visiting for the second year the Novo Futuro Village in the Humaita River, Brazil, we are entering the post production of the Eskawata Kayawai film, a documentary about the Huni Kuin culture, and the project needs your support for its completion. The funds will be used to edit the feature film and hire professional for all post production and distribution, sharing the film in film festivals and screenings all over the world.
After a long process of rediscovering their roots and ancestrality, remembering their culture once forbidden and censored, the Huni Kuin finally enters a new era, the time of the indigenous right. In harmony with nature, they began sharing their healing culture around the world with their knowledge, culture and spirituality from the forest, their own cultural festivals where they gather the indigenous with the non indigenous,...
Read More>>
Save the date: Power Gems at Matthews Garage Sale

By: Power Gems
| May 25, 2018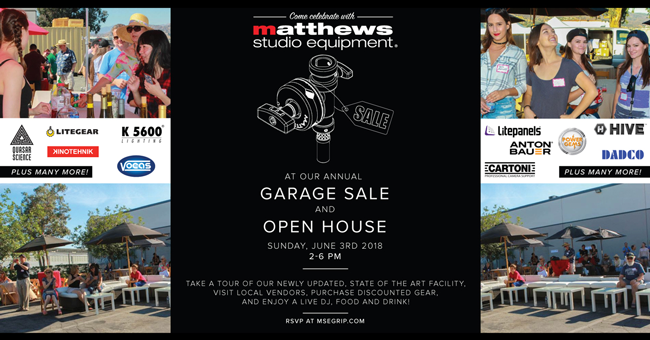 On Sunday 3 June - the day after Cine Gear - Power Gems will be at the Manufacturers' overstock and demo sale hosted by Matthews Studio Equipment. If the past four years are anything to go by, you'll want to be there to take advantage of deep discounts.
Among the great discounts last year was 70% off as the vendors got rid of overstocked items, leading to huge savings that were only available on the day.
Power Gems will be in good company, also returning are
K5600, Kinotehnik, Hive Lighting, Litegear
and
Vocas
plus many more.
Dan and Chip will be leaving our
new premises in Santa Clarita
, to bring the latest generation of ballasts for demonstrations throughout the afternoon. If you are thinking of buying a ballast, you may want to get there when the doors open at 2pm. We have been known to...
Read More>>
Production Resource Directory
The Creative Handbook is the most comprehensive production resource available. Designed to help you find the many production related vendors ensuring a perfect fit for you. Whether you're searching for specifics like stage rentals, photographic labs, industrial props or the best 3D animation companies in the world, we've got you covered. If you're just getting started we can connect you with everything you need from production companies, commercial production companies, camera rentals, extras casting, set construction, scenery backdrops, picture vehicles and the most exclusive film locations in the world. From there we can help you find costume rentals, costume makers, kitchen props, historical props, and post production houses. If you're ready to show your film we've got screening rooms, videotape duplication, promotional apparel and event production companies to help you along the way. The Creative Handbook is the leading source regarding information on film incentives, location for filming and film commissions in the entertainment industry. The Creative Handbook is your number one LA Production Resource Directory.
Creative Handbook
10152 Riverside Drive
Toluca Lake, CA 91602
© 2019 Creative Handbook