Change Region
All Regions
industry news
The Latest Industry News for the Exciting World of Production.
Creative Handbook puts together a bi-monthly newsletter featuring up-to-date information on events, news and industry changes.
Add My Email
By: Location Sound Corp.
| May 22, 2019
With more than 40 years serving the professional audio industry, Location Sound is the one source production sound mixers rely on for all their critical sound recording needs. From wired or wireless microphone systems, to portable sound mixers, audio recorders, time code slates, expendables, walkies, headphones, boom poles, soundcarts, custom cables, and so much more! From the simplest component to the most complex systems, you'll find more than what you need to get the job ...
Read More>>
By: M3 CREATIVE
| May 21, 2019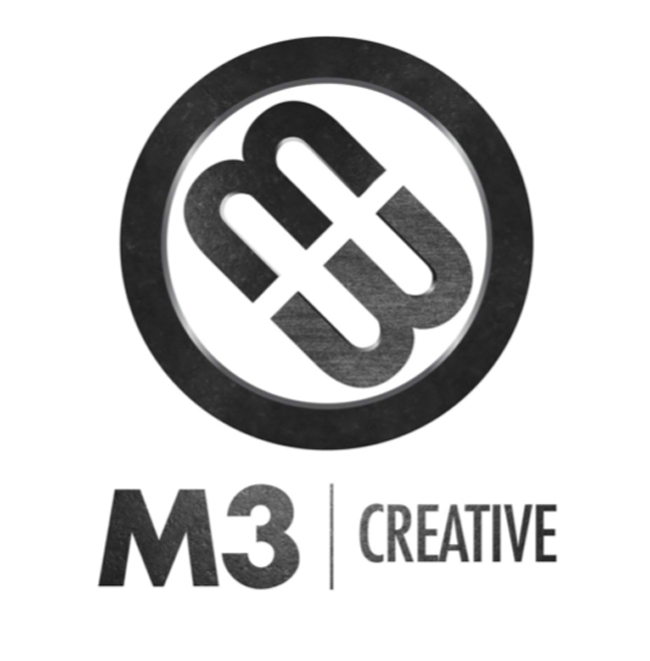 What are the secrets to getting brand work from networks?
M3 Creative
, a multi-award winning production company and creative content studio, will host a special session during the 2019 Promax Conference entitled "The Ultimate Secrets Revealed" to hopefully answer that question. Andy Meyers, Partner, M3 Creative, will serve as the session's moderator. "The Ultimate Secrets Revealed" session will take place on Thursday, June 6, starting at noon, at the JW Marriott Hotel at LA ...
Read More>>
By: American Film Institute
| May 20, 2019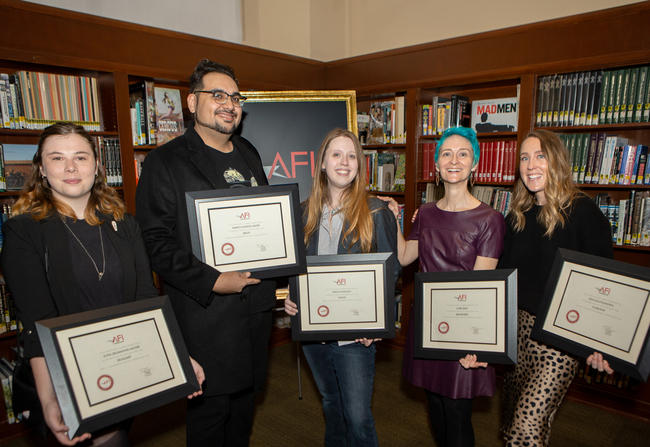 The AFI Conservatory today announced the recipients and mentors chosen for the fourth edition of the AFI Writers' Room Ready. Aimed at cultivating the next generation of television scriptwriters, the program gives graduating AFI Conservatory Fellows the unique opportunity to work directly with established artists. AFI Writers' Room Ready highlights select original scripts from top AFI graduates by pairing them with accomplished AFI Conservatory alumni mentors from the industry.
The Class of 2018 recipients, ...
Read More>>
By: Collins Visual Media
| May 17,2019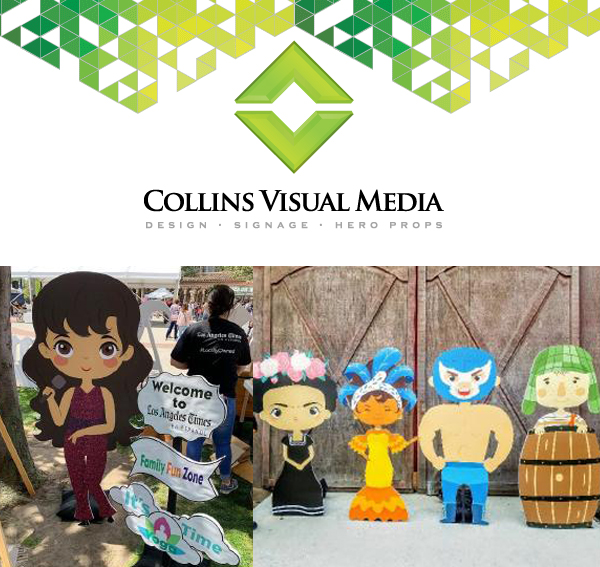 One of the most significant literary and cultural festivals in the nation was held April 13-14, 2019 on the campus of the University of Southern California. The 23rd annual Los Angeles Times Festival of Books was a free weekend of fun for all ages that brought together big-name special guests from across media with row after row of exhibitors, artists and live musical performances.
Included in the exhibits was Lil' Libros which ...
Read More>>
By: Performing Animal Troupe
| May 16, 2019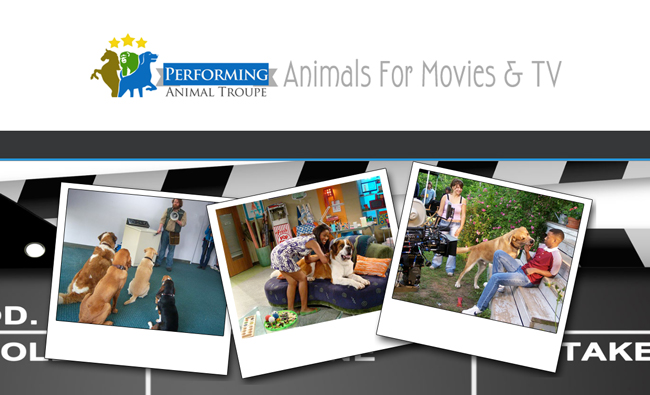 Extensive Experience
We have supplied trained animal actors and experienced trainers, handlers and wranglers for movies, TV, commercials, photography, videos & live shows for over 30 years.
Professional Animal Trainers
We do it all including script breakdowns, budgeting & consultations (always free!), animal training & handling, animal coordination, animal-related stunts, on-camera animal handling, and traveling to domestic and foreign locations.
Animals For Any Project
We are home to over 200 sought-after ...
Read More>>
By: Rental Tracker
| May 15, 2019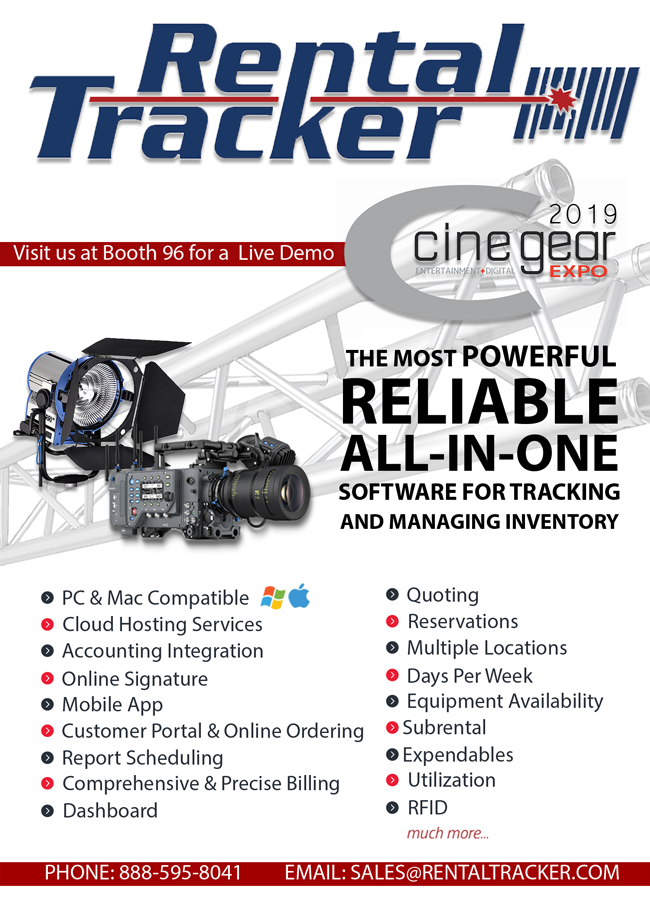 Rental Tracker is the leading inventory and warehouse management software for the Film Rental Industry. Our software has the flexibility to tailor your workflows and increase warehouse visibility.
RTPro offers solutions for:
• Quoting
• Reservations
• Days Per Week
• Multiple Locations ...
Read More>>
By: The Complex Studios
| May 14, 2019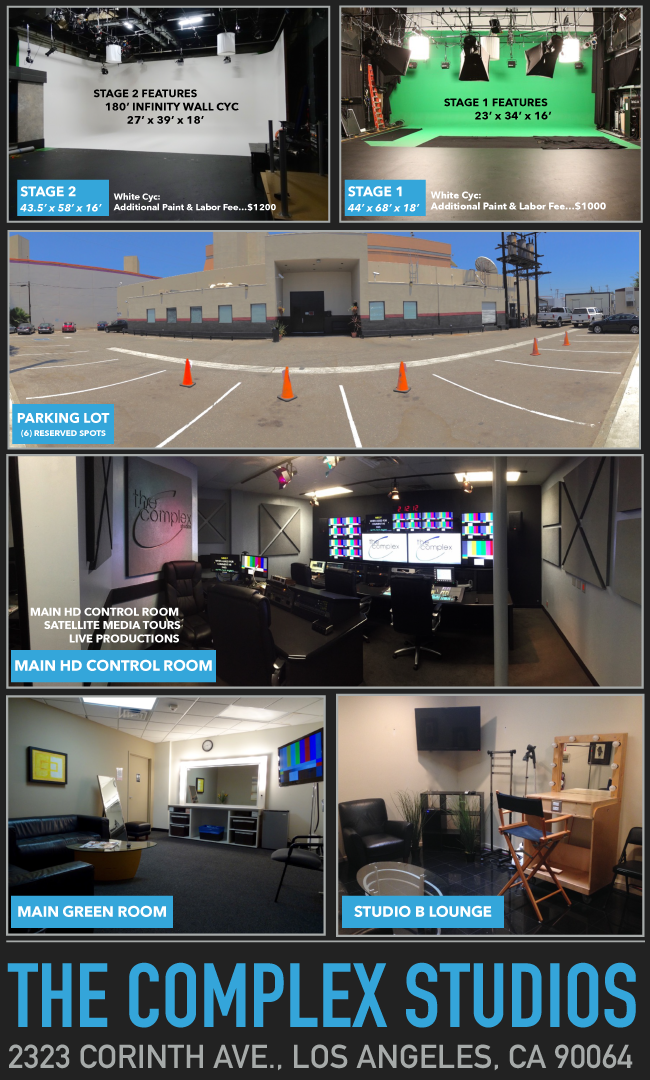 Located in West Los Angeles, we are considered the go-to spot for your production needs. With on-site parking, our sound stages and studios have been used for a multitude of productions for live television shows, pilots, Indie Films, Motion Pictures, Satellite Media Tours, Webcasts, commercial, music videos, all types of ...
Read More>>
By: Film Logic
| May 13, 2019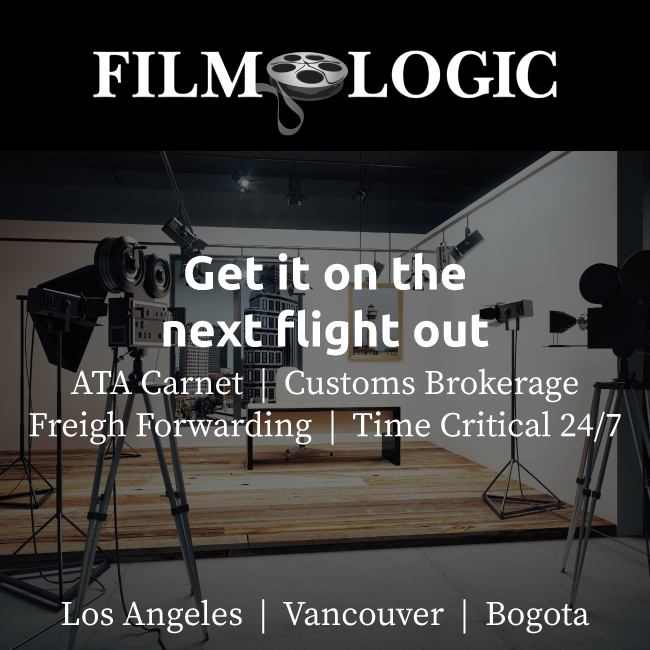 Since 1988, Film Logic has been providing logistics services to our clients in the film industry as well as customers with general commodities. We handle the entire process from collection, packing and crating, shipping and final delivery so you can rest assured that your items will arrive on time and intact.
Services Provided:
Customs Clearances
ATA Carnets
Freight Forwarding
US Customs Bonds
Domestic Freight
International Freight
Ocean Freight
Hot ...
Read More>>
By: LIGHTFAIR INTERNATIONAL
| May 10, 2019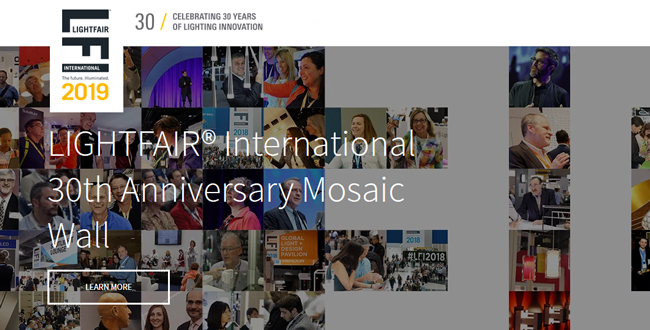 When LIGHTFAIR® International 2019 opens for business in Philadelphia on May 19, the 30th consecutive staging of the world's largest annual commercial lighting and design trade show and conference will present more than 550 exhibitors in a full-facility event featuring at least 60 manufacturers in their LFI debut joining global brands having shown at LFI from its inception.
LIGHTFAIR's 2019 run at the Pennsylvania Convention Center begins with the Pre-Conference May ...
Read More>>
By: Seattle International Film Festival
| May 9, 2019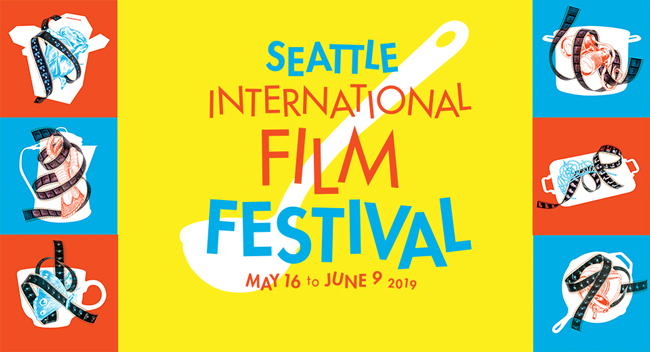 The Seattle International Film Festival, the largest and most highly attended film festival in the United States, announced today the complete lineup of films, guests, and events for the 45th annual 25-day Festival that runs May 16 - June 9, 2019.
This year, SIFF will screen 410 films representing 86 countries and will include: 147 features (plus 4 secret films), 71 documentaries, 12 archival films, and 176 shorts. The lineup includes 33 World premieres ...
Read More>>
By: Bentonville Film Festival
| May 8, 2019
Check out the newest additions to BFF 2019 with World Premiere films and early access to the next Indie smash hit, months before they hit the theaters. From Netflix premieres to Free events for the whole family, you don't want to miss these special events!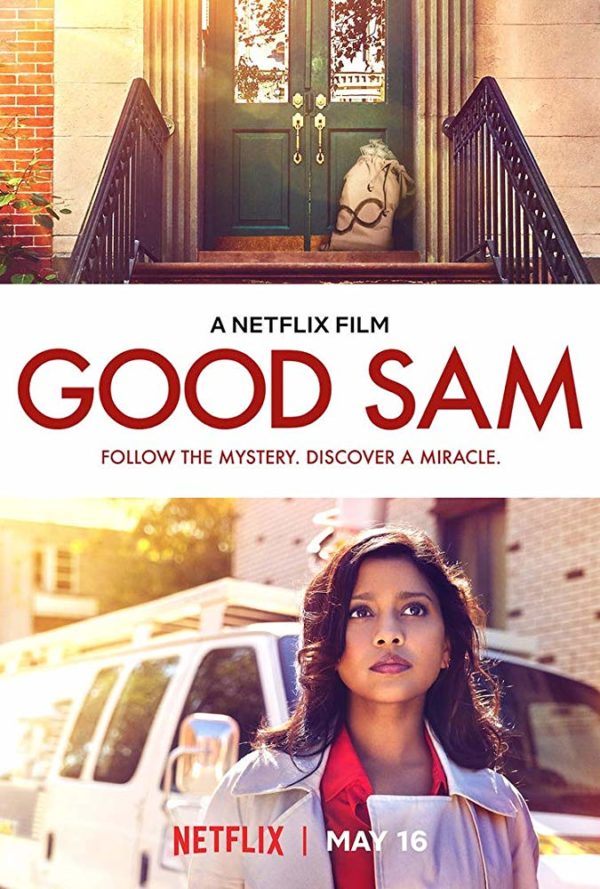 Good Sam: World Premiere w/ Q&A
Check out the Netflix World Premiere of new show "Good Sam". ...
Read More>>
By: Festival de Cannes
| May 7, 2019
There are films screened on the last evening of the Festival that have branded the Cannes legend. With the desire to carry on with this tradition, the Festival is pleased to announce that Olivier Nakache and Eric Toledano's new film The Specials, in Official Selection 2019, will be the Last Screening of its 72nd edition, on Saturday May 25, in the Grand Théâtre Lumiére, during the Closing ceremony.
Its name will no longer be the "Closing Film," it will now be called the "Last Screening", falling on the evening of the Closing ceremony. Its French name la << Derniére séance >> is the same as Peter Bogdanovich's French title for The Last Picture Show, and Eddy Mitchell' song.
Since last year, the Festival de Cannes has ended on a Saturday and no longer on a Sunday. As the last night has retrieved the warmest colors of the party ...
Read More>>
By: Maryland Film Festival
| May 6, 2019
The 21st Maryland Film Festival is May 8 - 12, 2019 in Baltimore's Station North Arts and Entertainment District! With over 40 feature films and 10 shorts programs, spanning all genres and drawing works from all over the world - acclaimed festival favorites and new...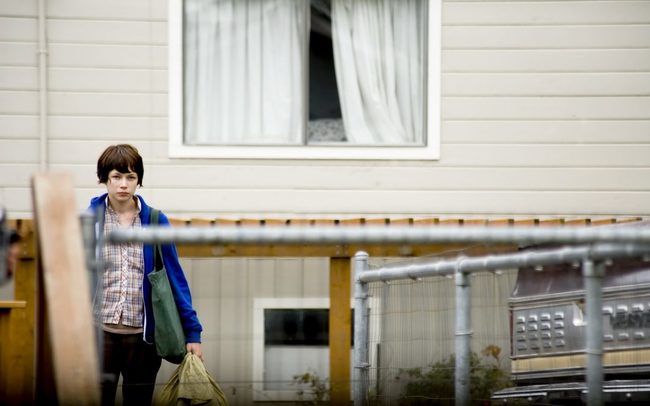 by Mitchell Goodrich
Through director Kelly Reichardt's measured frame, ...
Read More>>
By: AACTION STUDIOS
| May 3, 2019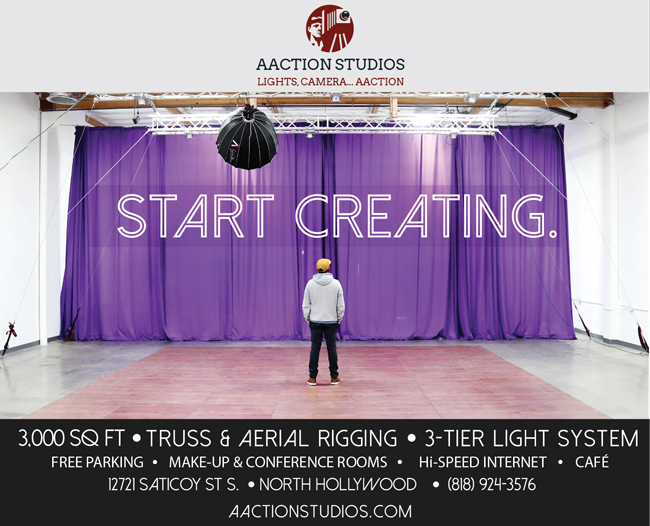 AACTION STUDIOS is home to cutting-edge projects including popular social media clips from Facebook and Youtube, web-series, indie films, television series and insanely crazy music videos from up-and-coming artists like this one: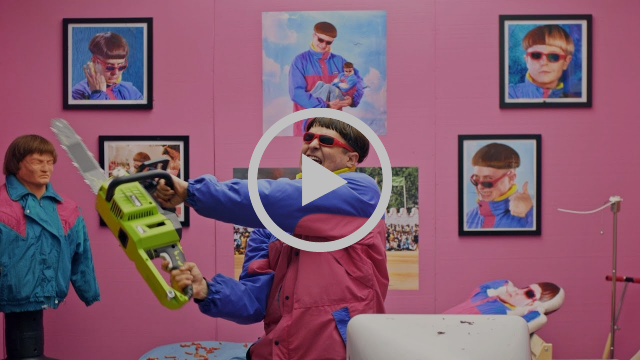 AACTION STUDIOS PRODUCTION FACILITY and STAGE DEBUTS SUMMER RATES in North Hollywood, CA
Lights, Camera, AACTION!
With the number of web-series, television productions, ...
Read More>>
Production Resource Directory
The Creative Handbook is the most comprehensive production resource available. Designed to help you find the many production related vendors ensuring a perfect fit for you. Whether you're searching for specifics like stage rentals, photographic labs, industrial props or the best 3D animation companies in the world, we've got you covered. If you're just getting started we can connect you with everything you need from production companies, commercial production companies, camera rentals, extras casting, set construction, scenery backdrops, picture vehicles and the most exclusive film locations in the world. From there we can help you find costume rentals, costume makers, kitchen props, historical props, and post production houses. If you're ready to show your film we've got screening rooms, videotape duplication, promotional apparel and event production companies to help you along the way. The Creative Handbook is the leading source regarding information on film incentives, location for filming and film commissions in the entertainment industry. The Creative Handbook is your number one LA Production Resource Directory.