industry news
The Latest Industry News for the Exciting World of Production.
Creative Handbook puts together a bi-monthly newsletter featuring up-to-date information on events, news and industry changes.
Add My Email
April 7, 2021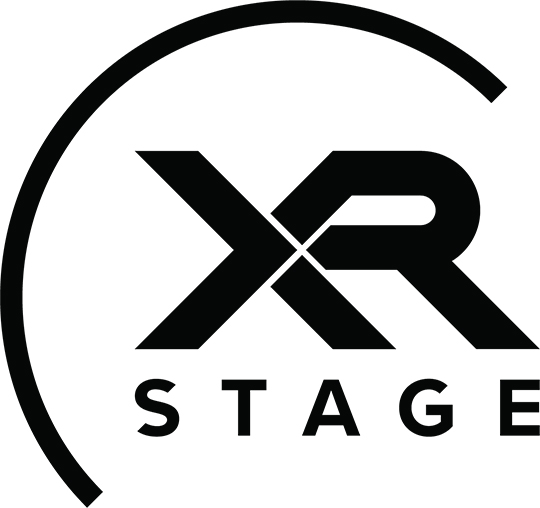 "As Key Players Across All Industries Continue To Turn To XR And Virtual Production, They Are Exploring What The Workflow And Related New Technologies Can Do To Engage And Immerse Audiences In Entertainment, Communications, Branding And Information Sharing." Disguise.One
XRStage Article Blog Link
This past year, we've partnered with disguise.one, a production software and technology company to bring some of our most immersive projects to life. Utilizing disguise's wide array of resources such as toolsets, webinars, guides and xR promotion this past year has helped the XR Stage Team prove to prospective clients that the technology is advancing and being adopted by creators worldwide at the highest production levels.
Take a look into the insightful and informative article below written by our partners at disguise as they deep dive into XR Stage and the future of virtual production.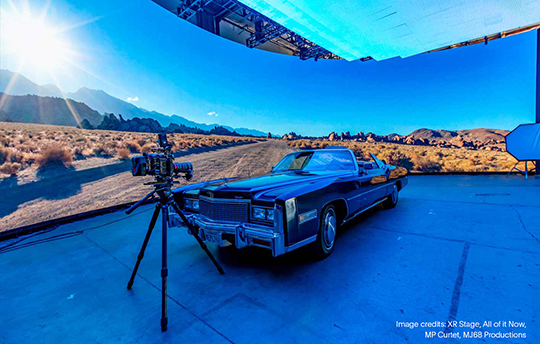 We Take A Look At One Of The Top XR And Virtual Production Spaces Opened In The United States In The Past Year To Discover How It Played Host To Some Of The Most Cutting-Edge Productions Using Our Workflow.
As key players across all industries continue to turn to xR and virtual production, they are exploring what the workflow and related new technologies can do to engage and immerse audiences in entertainment, communications, branding and information sharing.
As a result, xR stages have been popping up around the world, providing environments tailor-made to facilitate extended reality applications with specialty equipment for creating compelling content and hosting real-time or pre-recorded events.
Our disguise xR workflow is often at the heart of these stages, integrating with LED video displays, render engines, cameras and camera-tracking systems to deliver easy-to-use solutions for our customers and partners.
XR Stage
, is a multi-stage virtual production film location in Los Angeles, opened for business in 2020 with our xR workflow at its core. With a combined 25-plus years of experience supplying LED panels and providing live event production services, XR Stage represents a new division of Global Trend Productions. Global was early to embrace LED video panels, spending months working in China, learning all they could about how LEDs function and are manufactured. With this knowledge, a large supply of LED panels in stock, and the coronavirus pandemic putting live events on pause, Global decided to create XR Stage; an ultramodern virtual production facility for forward-thinking content creators.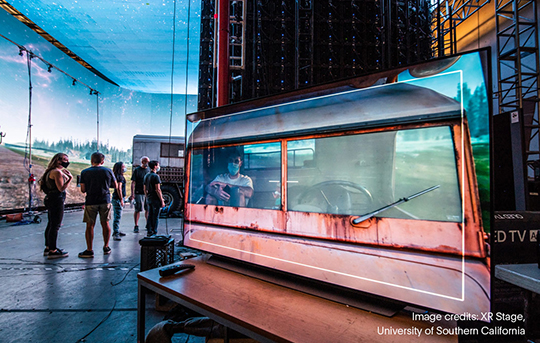 XR Stage features three studios and an inventory of more than 11,000 high-resolution premium ROE LED tiles and advanced LED processing for clients in film, episodic TV, advertising, gaming, music and live event production who are eager to break boundaries in content creation.
The largest of the three spaces, XR Film Stage, boasts an expansive 62-foot, four-part, 270° LED backdrop plus LED ceiling. XR Performance Stage has a 38-foot, 180° LED backdrop and LED ceiling, while XR Live Stage is outfitted with 28 feet of wraparound LED panels, theatrical lighting and truss. A new 53-foot diameter 270° LED stage with ceiling has recently been installed by XR Stage at Line 204 Sound Stages for immediate use through XR Stage.
disguise expertise shines through in XR Stage projects
Global has deployed disguise media servers as tools for the live events industry for years. Familiarity with our systems and access to a pool of local disguise programmers and operators made disguise a logical choice to become the engine behind the creation of XR Stage and a critical part of its system pipeline, says Keith Neves, Marketing Director for XR Stage.
This move has been swift and very successful. XR Stage have built a roster of top projects, representing many different content creators. General Motors, Nissan and LG have already used the stage for virtual commercial production. Helmed by feature director Marc Forster ('World War Z', 'The Kite Runner', 'Quantum of Solace'), the action-packed
Nissan advert
was shot with backdrops across all 360° of the LED volume. It also incorporated footage of Academy Award winner Brie Larson at the wheel.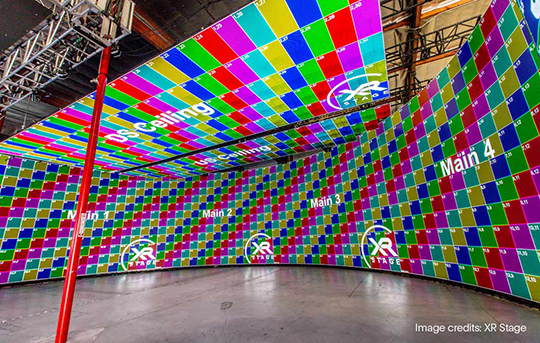 Creative collaboration is key for XR Stage
Several projects have involved partnering with San Francisco-based creative agency
All of it Now (AOIN)
. The Nissan spot, Framestore's 'Blink' and 'Travel Without Traveling' all featured AOIN's invaluable contributions to these unique virtual productions.
Armed with this early credit list, XR Stage looks to educate markets on the benefits that xR technology brings to the content creation pipeline. Increased numbers of proven case studies bolster prospective clients' confidence, and the technology's cost savings will become better known over time, too.
Keith believes xR is central to his team's business model as it encompasses everything they are looking to develop: "xR is in our DNA. It's the reason we acted so quickly to offer a full turnkey virtual production solution to the next generation of content creators."
Even after the pandemic is over, the team expects xR to be part of the fabric of future production for all markets. "We believe xR marks an evolution in storytelling, and that content creators will harness the technology to craft narratives never before imagined."