industry news
The Latest Industry News for the Exciting World of Production.
Creative Handbook puts together a bi-monthly newsletter featuring up-to-date information on events, news and industry changes.
Add My Email
June 11, 2021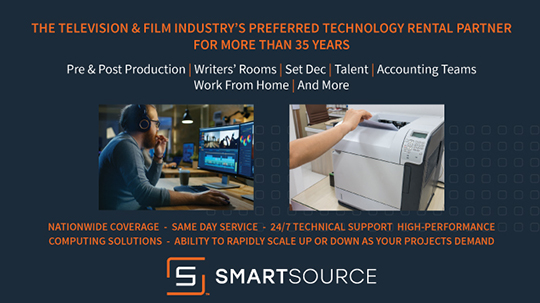 From powerful rental equipment to around-the-clock technical support, our team will ensure your project runs smoothly and that you have all the tools you need, when - and where - you need them.
WE KEEP PRODUCTIONS PRODUCTIVE
With more than 35 years of experience working with creatives in the entertainment industry, we understand that every project is different. Whether your project takes a week or a year to complete, SmartSource® can accommodate your equipment rental needs with our multi-million dollar inventory, in stock and ready to go.
• Desktop Computers (Windows & Mac)
• Laptops (Windows & Mac) (including newest MacBook Pro laptops)
• 4K TVs
• Presenter Kits/Video Conference Kits
• iPads & Tablets
• ScanSnaps
• Copiers & Printers
• VIBE Board Interactive Digital Whiteboards
For more information on our high-performance equipment, or to discuss a more custom solution, please contact me today. I look forward to demonstrating our white-glove service that so many studios and production companies have come to know and depend on.
Learn more at
TheSmartSource.com
https://www.smartsourcerentals.com/wp-content/uploads/2021/06/Entertainment-Services.pdf