industry news
The Latest Industry News for the Exciting World of Production.
Creative Handbook puts together a bi-monthly newsletter featuring up-to-date information on events, news and industry changes.
Add My Email
By: Stun
| February 6, 2019

Stun, an award winning content studio and commercial production company, has launched a new "DIGITAL 360" division and, concurrently, has named Renee Samms as Head of DIGITAL 360. The announcement was made today by Mark Feldstein and Brad Roth, Principals & Co-Founders of Stun.

Stun's current DIGITAL 360 clients include: Fox Searchlight/Fox Home Entertainment, Warner Brothers, the NFL, HBO Social, NBCU Snapchat Integrations, WarnerMusic Group, Sony Theatrical, Universal Theatrical, Dreamscape VR, and #SeeHer, among others.

The vision behind the creation of Stun's new DIGITAL 360 division is driven by a Transmedia Branding strategy - delivering the right message to the right person at the right time, and in the right place. As social and digital media have become key to success in today's mobile-first world - with people moving across platforms every time they sign-in online - Stun's thinking is that brand messaging should move across platforms too, in an authentic way that aligns with the organic voice of each of those mediums.

Regarding the creation of their new division, Feldstein and Roth said, "Our goal for this year is to launch our DIGITAL 360 division in a big way. Our philosophy is that content alone is no longer king, but Content + Context are King. Our plan with DIGITAL 360 is to keep scaling our Digital division, and continuing to integrate it within the full Stun suite of existing creative services providing our clients one, true, 360° creative marketing agency."

They add, "Renee Samms is the perfect executive to head our new DIGITAL 360 division. She is that rare combination of strategic thinker and creative storyteller. Renee has a proven track record in developing marketing strategy and interpreting audience needs to create award-winning digital marketing solutions. Renee's diverse experience, genuine curiosity for consumer behavior, love for digital marketing, and willingness to push creative boundaries has consistently delivered tremendous results. We are delighted that she has joined Team Stun."

Said Samms, "Having built my career in entertainment marketing and branded content, I wanted my next role to be with a team and company that not only had a track record of raising the bar creatively, but also had the same philosophy that I do. Stun believes that storytelling is key for any successful campaign, and that no matter which brand or client they are working with, they will always push the boundaries and hold themselves to a higher standard than any other creative content studio around."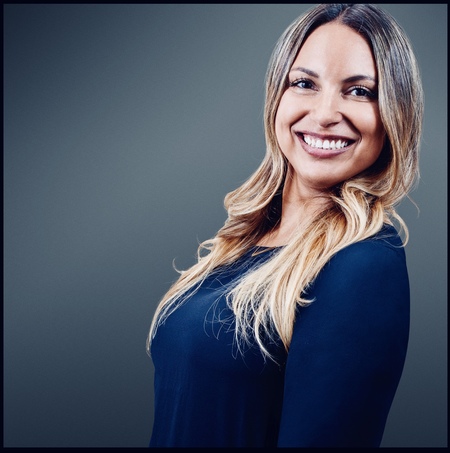 Renee Samms
ABOUT RENEE SAMMS
A digital media professional and creative leader with over 13 years of experience in creative storytelling, social media strategy, cross-platform campaign strategy, media planning, and branded content, Renee Samms was named Head of Stun's DIGITAL 360 division in early 2019. Prior to this post, she had been a Digital Media, Cross-Platform Strategy, Branded Content, and Influencer Marketing Consultant in New York, Los Angeles, and Barcelona, working on behalf of such clients as UnInterrupted (Spring Hill), Captiv8, Utopia, De Mille Group, The NoiseHouse, and Trap Nation (The Nations).

During the course of her career, Samms was instrumental in developing award-winning digital marketing solutions for such top entertainment companies as Lionsgate, IMDb/Amazon, Walt Disney Company, Maker Studios, and several others.

Samms holds a BS Degree in Business Administration, Marketing and Advertising, from USC's noted Marshall School of Business.

ABOUT STUN
Winners of the prestigious PromaxBDA 2018 Global Excellence Agency of the Year Award, and three-time winners of the Promax/BDA North American Agency of the Year Award (2017, 2014, 2013,) Stun activates consumers by telling brand stories in compelling and engaging ways across all media platforms. Founded in Hollywood in 2000 by Brad Roth and Mark Feldstein, Stun is a content studio and commercial production company, known for its award-winning creative campaigns, integrated use of comedy and humor, and compelling, highly original, thought-provoking content.
In addition to its live action work, Stun also offers clients state-of-the-art animation and design, visually compelling key art and print production, and a full service Social Media Content Team.

The agency's DIGITAL 360 division, specializing in Transmedia Branding, was launched in early 2019.

Stun counts among its clients the biggest television broadcast, cable, and streaming networks, including TBS, Universal Music Group, HBO, TNT, FX, Bravo, ABC, Hulu, Warner Bros, Netflix, NFL Network and Food Network. The agency also works with many top tier brands, such as Dove's Men + Care, BMW, Mountain Dew, Princess Cruises, Mattel, and many others.

For the past 19 years, Stun has been recognized throughout the entertainment and advertising industries for its smart, funny and celebrity-driven work. The company has produced successful and popular promotional campaigns featuring such celebrities as Kristen Bell, Andy Samberg, Snoop Dogg, Conan O'Brien, Magic Johnson, and Dwayne "The Rock" Johnson, to name just a few. Stun has Emmys, Clios, Cannes Lions, and Webby Awards to its credit.

Stun is located at 6420 Wilshire Blvd., Suite # 450, LA, CA 90048. The phone is: 323/ 460-4035. Please visit: http://www.stuncreative.com/stun/