industry news
The Latest Industry News for the Exciting World of Production.
Creative Handbook puts together a bi-monthly newsletter featuring up-to-date information on events, news and industry changes.
Add My Email
Explore the Future of Live Entertainment at SPARK!

By: USITT
| July 16, 2014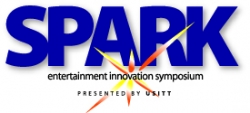 USITT fans asked for opportunities to influence entertainment industry research and development. USITT's answer is SPARK! - an Entertainment Innovation Symposium that invites creative thinkers to explore new technologies and how they can benefit the performing arts.

The first SPARK! - September 7-9 at the University of North Carolina School of the Arts in Winston-Salem -- will provide an intimate, inexpensive summit showcasing and creating ways for combining developing products to spark innovations in live entertainment.

Registration info HERE. Cost is $350, with a discount to $200 for USITT members and $150 for USITT student members.

SPARK! will put ground-breaking tools like the new Mogees music app, Google Glass, 3D projection, and advances in rigging and sound products into the hands of designers, technicians, and entertainment engineers. Sessions will encourage them to experiment, explore, and brainstorm new ways to apply these innovations for our industry's future. The preliminary schedule is at www.usitt.org/sparkschedule.

British design visionary Tupac Martir will unveil the first experiment merging Mogees with coolux's Pandora's Box media server to create new forms of performance art, in which dancers make music and trigger lights, projections and special effects with their movements.
Thomas Rhodes of Fort Worth Opera, an early Google Glass Explorer, has already seen his field tests result in the first operas using Google Glass supertitles. He foresees Glass being instrumental in theatre productions of the near future.

Kim Scott of Cirque du Soleil will present implications for the 3D projection technology that produced the Michael Jackson hologram used in Cirque's Michael Jackson ONE show, as well as the role of social media in live performance.

Join these and other innovators for small-group and symposium-wide sessions in the first event of its kind, to inspire and create new ways of seeing technology and the arts.
USITT has partnered with UNCSA to offer plenty of space to play with new products and spark new ideas. Affordable housing at the Historic Brookstown Inn is available to attendees for only $89 a night.

Attendance is limited to under 200, so register now at www.usitt.org/spark14.
USITT, the United States Institute for Theatre Technology, is the national association for technical theatre professionals. USITT membership offers access to a 4,000-member network, hands-on training workshops, new products, grants and awards, and the Annual Conference & Stage Expo. For information, visit www.usitt.org.