industry news
The Latest Industry News for the Exciting World of Production.
Creative Handbook puts together a bi-monthly newsletter featuring up-to-date information on events, news and industry changes.
Add My Email
April 29, 2011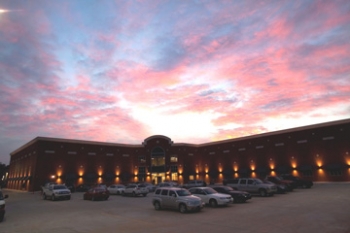 On March 31, 2011 the much-anticipated Millennium Studios will formally open its doors for business in Shreveport, Louisiana. "I applaud Nu Image/Millennium Films for having the vision to invest in the future of the film industry in the Shreveport region and for the large number of well paid jobs it has brought to the area. I look forward to the continued partnership and future growth of Millennium Studios as they expand bringing the Shreveport film industry to another level," says Cedric Glover, Mayor of Shreveport. Shreveport has become one of the nations most production-friendly filming locations offering a wide variety of locations, talent and infrastructure. Nu Image, parent company of Millennium Studios, has produced 16 motion pictures in Louisiana to date, 13 of which were filmed in the Shreveport area. Some of the recent Nu Image movies shot in Shreveport include "Mad Money" (Diane Keaton, Katie Holmes, Queen Latifah and Ted Danson), "Leaves Of Grass" (Edward Norton, Richard Dreyfuss and Tim Blake-
Nelson), "Drive Angry" (Nicholas Cage and Amber Heard) and "Trespass": (Nicole Kidman, Nicolas Cage and Joel Schumacher). The company is currently in pre-production with "Playing the Field", featuring Gerard Butler and Jessica Biel and directed by Gabriele Muccino which will shoot in Shreveport as well as "Medallion" in New Orleans with Nicolas Cage, directed by Simon West. "I am very excited to expand our operations in Louisiana and we hope to bring a lot more productions to Shreveport." says Avi Lerner, Chairman of Nu Image.

Nu Image has become a stalwart of Louisiana's entertainment industry," said Sherri McConnell, executive director of Louisiana Entertainment. "The addition of Millennium Studios, combined with Worldwide FX's state-of-the-art special effects capabilities, strengthens and enhances our ever-improving production infrastructure. We're thrilled that Louisiana's entertainment incentive programs have enabled Nu Image and WWFX to make such a significant investment here."
"Louisiana is one of the standout success stories in the United States in terms of encouraging and developing a film and entertainment infrastructure on a rational, economical and efficient basis", said Trevor Short, CFO of Nu Image. "The tax incentives available in Louisiana both for production and infrastructure development are a model that many other states and countries
would do well to study". MILLENNIUM STUDIOS' facilities comprise a total of over 70,000 sq ft of
buildings on 6.7 acres in central Shreveport including two sound stages, production offices, a construction mill and the visual effects studios of WORLDWIDE FX (WWFX). With 75 employees, Worldwide FX is the largest visual effects studio in Louisiana and the surrounding states. WWFX is currently finishing work on two major features, "Conan the Barbarian" and "Trespass". Since it opened in May 2009, WWFX has completed CGI and Visual Effects work on six features, including "The Expendables", "The Mechanic" and "Drive Angry in 3D".

For questions please contact Monella Kaplan: mkaplan@nuimage.net, (310) 666-4737.