industry news
The Latest Industry News for the Exciting World of Production.
Creative Handbook puts together a bi-monthly newsletter featuring up-to-date information on events, news and industry changes.
Add My Email
By: Pixeldust
| June 3, 2014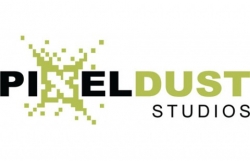 Pixeldust Studios, a multi-award winning digital animation and broadcast design studio, is expanding its creative production capabilities to now include providing clients with innovative script-to-screen video production and interactive design. While animation and visual effects will remain at the core of the company's business, Pixeldust will begin to leverage its in-house creative talent and newly expanded resources to deliver original, high quality digital content and products to meet the growing demand for such content across television, the web, videogames, and mobile devices.

In additional company news, Pixeldust has also just launched a new Hispanic Market division, and will now provide Spanish language capabilities for its clients. Also, the company has just named Emmy Award winning producer Lori Butterfield as its new Senior Vice President, Creative Content and Development.

The announcements were made today by Ricardo Andrade, President and Creative Director, Pixeldust Studios.

"This is a pivotal time in our company's 10-year history," says Andrade. "Our announcements today represent a natural progression in our evolution, as we become a full-service, 'one-stop shop' for all creative and media needs for a truly diverse range of clients. Today, due to emerging markets and the rapid pace of new technologies, there is tremendous new demand and opportunity for us in producing content for non-broadcast television clients - especially those who seek higher production value. Over the past few years, we have been moving beyond our core broadcast clients to include a rich portfolio of projects for corporate, nonprofit, educational, museum and foundation clientele."

Andrade adds, "We also have plans to produce our own, original live action short-form and long-form projects soon across multiple platforms. We will be announcing the first of these projects shortly. We are very excited about the new opportunities that exist on our horizon, as our company expands into its new role as a full-service creative boutique."

In conjunction with the company's new Hispanic Market division, a major focus is now underway by Pixeldust Studios to offer Spanish language capabilities and services to the growing Hispanic market based both in the U.S. and Latin America. Pixeldust VP and Executive Producer Elizabeth Andrade, who will oversee the new division. says, "Our company is well positioned to service the Hispanic media and multi-cultural corporate clients. As Latin American natives ourselves, we understand the nuances and idiosyncrasies of the culture. Our experience working with major broadcasters for ten years, and our award-winning track record of excellence, makes Pixeldust uniquely qualified to take on a wide-range of Spanish language productions. We have the proven ability to create exciting new strategies and camp! signs targeted directly to Hispanic consumers."

Recent projects on which Pixeldust Studios has worked include the production of a TV ad for VISA's BlackCard; 3D architectural visualizations for Audi dealer showrooms, and an advocacy video for the Campaign for Tobacco Free Kids.
To promote the release of National Geographic's latest IMAX film, "Mysteries of the Unseen World," Pixeldust also designed and delivered a fully interactive promotional microsite.

Regarding the addition of Lori Butterfield to the Pixeldust team, Andrade said,
"Lori is a rare talent in this business. She brings both creative and business development skills to our company, as well as hands-on production expertise, and is known for delivering great editorial and creative depth to her projects. Her credits span both long and short-form productions, which will allow us to service the needs of our various clients in a more comprehensive fashion."

ABOUT LORI BUTTERFIELD:
Lori Butterfield, Pixeldust Studios' new Senior Vice President, Creative Content and Development, is an Emmy award-winning producer, director and writer who spent a decade working at both National Geographic Television and Discovery Networks, creating and managing over 150 hours of television series and specials. She has traveled to 50 countries on six continents to bring engaging, dramatic subjects to life. Her work has taken her from the rainforests of Rwanda to the Australian Outback, and from the Persian Gulf desert to the North Pole.

Over the past seven years, Butterfield has worked with Home Front Communications, a Washington, D.C., based agency that specializes in advertising, branding, digital strategy, and production. Her clients there included major philanthropic organizations such as the MacArthur, Annie E. Casey, PEW and Gates Foundations; major public health organizations such as the Robert Wood Johnson Foundation, the Global Network, and the World Health Organization (WHO); and corporate clients such as AOL, TEDMED and United Health. She continues her strong partnership with Home Front, working as a Senior Adviser and Executive Producer on key productions.

Butterfield began her television career in Atlanta, in the fast-paced news operations of CNN and Headline News. She worked in Sydney, Australia, at the Seven Network, and in New York City, where she helped launch King World's nationally syndicated magazine program, "American Journal." Her numerous honors include a national Emmy Award, a Conservation Legacy Award from the International Wildlife Film Festival, a Golden Cine Award, two Gold Awards from the Houston International Film Festival, and a Silver Telly Award.
ABOUT PIXELDUST STUDIOS:
Pixeldust Studios is an award-winning, full-service digital, design and interactive company with proven expertise in creative intelligence and a focus on delivering exceptional client service. Located in Metro Washington, D.C., and in New York City, Pixeldust Studios employs a world-class roster of editorial and design talent, and commands the latest technological tools to visualize and execute any project.
Founded by Ricardo and Elizabeth Andrade in 2004, Pixeldust's global client portfolio ranges from broadcast television and entertainment networks and production companies, to corporate and retail clients, as well as museums, non-profits, academic organizations, and scientific research institutions and organizations.
To view the newly redesigned Pixeldust Studios website, please see:
http://www.pixeldust.tv/
Follow the company on Facebook:
https://www.facebook.com/pixelduststudios
and Twitter: @Pixelduststudio