industry news
The Latest Industry News for the Exciting World of Production.
Creative Handbook puts together a bi-monthly newsletter featuring up-to-date information on events, news and industry changes.
Add My Email
Southern California's Premier Family-Oriented Equestrian Event Returns May 1-4 at the Los Angeles Equestrian Center

By: Fiesta of the Spanish Horse
| April 3, 2014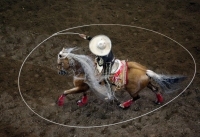 The Fiesta Charity Horse Show and Spectacular, produced by the non-profit Fiesta of the Spanish Horse, has announced it will run May 1 through May 4, 2014 at the Los Angeles Equestrian Center. This event is one of Southern California's largest horse show charity events

The popular family-oriented event includes Magnificent Horses, a multi-breed horse show competitions and a charity benefit on Saturday with music, food, dancing, vendors and more. The Fiesta Charity Spectacular features an action-packed evening of trick riding, the Wells Fargo Stagecoach, Ramon Becerra, and other equine entertainment, music, and dance entertainment. The four-day show brings together rare and magnificent horses of Spanish origin from across the country, creating an equine event unlike any other in the equestrian show world.

This year's show marks the 16th year for the event, and will benefit the USC Norris Comprehensive Cancer Center and Children's Hospital Los Angeles.


The exhibitions, performance acts and celebrities slated for the Saturday festivities are a thrilling, seldom-seen display of equestrian entertainment for spectators of all ages. What's more, it's sure to include the perennial crowd favorite Traveler, USC's famous white Andalusian mascot who has made a special appearance every year since the show's inception, and graciously poses with scores of attendees for up-close interaction and photos.
Horse show competitions begin Thursday, May 1 with an open dressage show, and new this year Working Equitation, PRE competition will also be presented on May 1. Breed competitions, including Andalusian, Caspian, Costarricense de Paso, Lusitano, Friesian, Paso Fino, Peruvian Paso, Plantation Walking, and various other breeds will be held Friday through Sunday. All show competitions are open to the public free of charge.
Festivities for the Saturday, May 3th Charity Spectacular begin at 2:00 pm at the LAEC grounds, featuring food, music, vendors, and open barn areas for attendees to visit and meet with the horses and handlers. The evening show and formal exhibitions begin at 5:00 pm in the Equidome. Ticket prices for the Charity Spectacular range from $10 - $30 (age 4 & under free). Contact 818-842-8444 or
www.fiestaspanishhorse.org
for more information.