industry news
The Latest Industry News for the Exciting World of Production.
Creative Handbook puts together a bi-monthly newsletter featuring up-to-date information on events, news and industry changes.
Add My Email
By: SOS Global Express
| April 1, 2014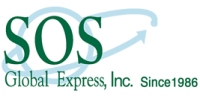 SOS celebrates its 28th year in business and looks to further focus on its day to day business that has helped support and grow the business. In the USA, SOS is again working with many customers for shows including American Idol, So you think you can dance and movies such as Land of the Bears filmed in the remote Russian wilderness.

The team provided tailored transportation solutions including aircraft charters and time critical shipments. The domestic team continues to build its resume handling Sporting Events, Reality TV, Theater shows, TV Pilots, fashion, industrial and consumer projects. In the midst of this the international team celebrated the closing of Olympics and Paralympics in Sochi not long ago. Separately another dedicated team consisting of members in the USA, UK and Germany has long been working on the World Cup, taking place throughout Brazil this coming June and July. 24/7 operations support has helped provide seamless transport. Following Brazil additional teams at SOS will focus on the Youth Olympic Games (Nanjing, China) and Commonwealth Games (Glasgow, Scotland).


About SOS Global Express
Founded in 1986 with a customer first mentality, SOS Global is a one stop Freight Forwarding and Logistics company, with operation teams in place for both the USA and Europe for seamless coordination throughout the world. This total service concept, promoted throughout the SOS team has allowed for personalized solutions meeting and exceeding the needs of all our clients. The team routinely handles AOG, Ship Spares, Sporting Events and News, Feature Films and Broadcast TV. www.sosglobal.com custsvc@sosglobal.com 1-800-628-6363 Around the World...Around the Clock