industry news
The Latest Industry News for the Exciting World of Production.
Creative Handbook puts together a bi-monthly newsletter featuring up-to-date information on events, news and industry changes.
Add My Email
USITT Heads to Fort Worth for Cowboys, Culture, & Lots of Live Entertainment Technology

By: USITT
| March 17, 2014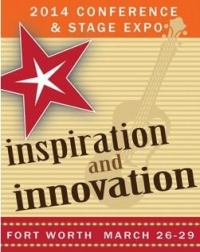 USITT has people from all over heading to Fort Worth, Texas, for the biggest theatre technology event of the year - the 54th Annual USITT Conference & Stage Expo, opening Wednesday, March 26.

The United States Institute for Theatre Technology fills the Fort Worth Convention Center March 26-29, bringing some 5,000 live entertainment design and technology professionals and students to "the City of Cowboys and Culture."

It's not too late to register for the Conference or Stage Expo online at www.usitt.org/2014.

USITT's Stage Expo will turn the Convention Center into a spectacle of lights, sound, projection, and special effects as more than 250 entertainment technology companies display their latest products.

Backstage industry stars being honored include Saturday Night Live and Wicked set designer Eugene Lee, whose most recent project, The Fortress of Solitude musical, is now playing at the Dallas Theater Center's Wylie Theatre; legendary Hollywood costume designer Ann Roth, and Shirley Prendergast, who opened doors 40 years ago as the first African-American female lighting designer on Broadway.

This will be the first time USITT has held its Conference in Fort Worth since 1996. The event has grown significantly since, and 2014 will be the biggest ever, with over 240 workshops and educational sessions and a gigantic Stage Expo, said USITT Executive Director David Grindle.

"Fort Worth and Dallas have a vibrant arts scene with something for everyone," Grindle said. "We hope the area's arts community comes out to welcome members of their industry from around the nation and the world and join the excitement surrounding the Conference."

USITT has over 4,800 room nights booked at the Fort Worth Hilton, Omni and Sheraton hotels, and is now booking other area hotels. USITT has been touting the Dallas-Fort Worth area to its 5,000 arts-loving attendees for months, and recently spread the word that the first annual Fort Worth Food and Wine Festival will be going on during its Conference.

Grindle said USITT's 2013 Conference in Milwaukee had the sixth greatest economic impact of any convention ever held in that city, and Fort Worth should see a similar impact.

Other Conference highlights include Sound Lab, an interactive live sound mixing experience with local performers on stage; a keynote speech by Texas favorite Jaston Williams of Greater Tuna, Texas fame, and honors for two Texas arts heroes, Fort Worth Opera General Director and revitalizer Darren K. Woods, and University of Texas at Austin Events Production Director and mentor Susan Threadgill.

While there, USITT is offering tours of some of Fort Worth's cultural gems, such as Dallas Arts District, Fort Worth Performing Arts centers, Fort Worth Museums, and the Philips lighting factory in Dallas.

USITT is the national non-profit organization for live entertainment technology professionals. Its Annual Conference & Stage Expo is the industry's leading event for education, networking, and resourcing of theatre products and services.

USITT also provides year-round training, information, and career-building opportunities. For more information, please visit www.usitt.org.