industry news
The Latest Industry News for the Exciting World of Production.
Creative Handbook puts together a bi-monthly newsletter featuring up-to-date information on events, news and industry changes.
Add My Email
By: Pete Abel
| April 11, 2011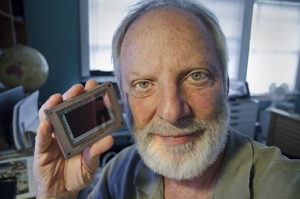 New York, NY - April 11, 2011 - AbelCine is pleased to announce that respected industry veteran Andy Romanoff has joined the company.
Most recently, Romanoff served as Executive Vice President, Technical Marketing and Strategy, for Panavision. In his role with AbelCine, he will focus on Industry Relations and Business Development, with a concentration on the Phantom 65 Gold and other high-speed camera systems from Vision Research.
The move gives AbelCine the experience of a longtime industry innovator at a time when digital acquisition is creating groundbreaking, new efficiencies at the highest levels of feature, television and commercial production. The appointment of Romanoff compliments AbelCine's objectives in this market.
"I'm excited to join the innovating, forward thinking team at AbelCine," explains Romanoff. "Their infrastructure, mixture of services and long term vision is the formula I think companies need to address the shifting dynamics of today's industry. I'm excited to contribute to a group of folks that are driving this change."
"Andy is known and well respected industry wide. He's been on all sides of this business, from technical to entrepreneurial, to activism, marketing and upper management," says Pete Abel, President / CEO of AbelCine. "Andy has a combination of knowledge and perspective that's pretty unique and jives with the spirit and belief system of our company. We feel lucky to have his insight and influence."
Romanoff holds several patents related to efficient camera use in filmmaking, and he has written about film and video technology for publications including American Cinematographer, Millimeter, Below the Line and Film & Video.
Romanoff worked for Panavision since 1997, and joined their senior management team in 2006. In his most recent role in Technical Marketing and Strategy, Romanoff was a key contributor to new product design and introduction.
Romanoff is an associate member of the American Society of Cinematographers and a long time member of the Society of Operating Cameramen. He was honored by them in 2008 with their Distinguished Service Award. He has served as the co-chairman of the PERA/ESTA industry-wide crane safety committee, drafting American National Standards (ANSI) for safe crane and remote head usage. He is a member of the Motion Picture Academy of Arts and Sciences, and currently serves on the Academy's Scientific and Technical awards committee.
An article recently appeared in The Hollywood Reporter about Andy Romanoff's joining AbelCine. Click here to read the story.
About AbelCine
Established as Abel Cine Tech in 1989, AbelCine is a leading supplier of professional film and digital equipment with facilities in New York City, Burbank, CA and Chicago, IL. Core services include equipment sales, rental, technical service, digital media services and training. The company is the North American agent for Phantom high-speed cameras, as well as a Sony Solutions Reseller, Panasonic Specialty Reseller, Arri digital camera reseller and the exclusive US agent for Aaton motion picture cameras. The company is also the first Carl Zeiss Authorized Service Partner in the Americas. In 2011, the company launched its rebranding as AbelCine, to reflect its expanded role in the marketplace.

For more information, visit www.abelcine.com.