Change Region
California
industry news
The Latest Industry News for the Exciting World of Production.
Creative Handbook puts together a bi-monthly newsletter featuring up-to-date information on events, news and industry changes.
Add My Email
By: USITT
| March 14, 2014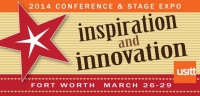 The finalists in the USITT 2014 Architecture & Theatre Student Design Competition sponsored by American Seating will present their designs for a college theatre at USITT's 2014 Annual Conference & Stage Expo in Fort Worth.

The finalists include student teams from Yale University and the University of Wisconsin-Milwaukee, and European exchange students at Universit® Laval in Quebec, Canada.

The competition is meant to challenge teams of architecture and theatre students to collaborate on designing a 400- to 600-seat theatre for their campus.

Michigan-based American Seating, a leader in theatre seating, sponsored the 2014 competition. Additional support came from San Francisco theatre consulting firm the Shalleck Collaborative.

USITT, the United States Institute for Theatre Technology, holds the contest to encourage architecture students to explore theatre design. Student teams submit entries to a professional jury of theatre architects and consultants who select three finalists to receive $1,000 awards and present at the USITT Conference.

One team chosen there will receive the USITT Architecture Commissioner's Award and an additional $500. The 2014 presentations take place Saturday, March 29.

One of the finalist teams, called Urban Stages, was composed of two visiting architecture students at Universit® Laval, from France and Belgium, and two Laval theatre students. The university celebrated their achievement in a front-page story in the college newspaper.

The other finalists are Skene + Theatron Design, a team of three Yale University architecture students and two Yale School of Drama students, and Performative Landscape, from the University of Wisconsin-Milwaukee, where architecture student Bruno Silva tapped a performance workshop class as his theatre "client."

Besides the student architecture competition, USITT also holds an annual Architecture Awards competition for the best performing arts spaces built or renovated in the past 10 years.
For more information, please visit www.usitt.org.