industry news
The Latest Industry News for the Exciting World of Production.
Creative Handbook puts together a bi-monthly newsletter featuring up-to-date information on events, news and industry changes.
Add My Email
March 8, 2014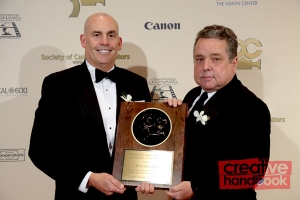 Pictorvision Eclipse Honored with SOC Technical Achievement Award members of the Society of Camera Operators gathered at the Skirball Center, in Los Angeles, CA to honor the accomplishments of its outstanding members as well as individuals in the corporate community for their contributions to the advancement of equipment and techniques vital to the work of Camera Operators. At this year's annual black tie event, Pictorvision received one of the SOC's coveted Technical Achievement Awards for its Eclipse™ Gyro-Stabilized Aerial Camera System.

Accepting the award, Tom Hallman, Pictorvision President, remarked, "Of the many awards in this industry, none are more welcome than this honor given by those who work directly with our Pictorvision Eclipse." Hallman thanked the core team of engineers including Michael Lewis, Greg Marsden, Raigo Alas and Michael Vellekoop, as well as Mark Chamberlain, current Chairman of PV Labs, Pictorvision's parent company and past president and CEO of Wescam, for his encouragement and investment in new technology for the cinema business.

Since its introduction, the Pictorvision Eclipse has been used on over half of the annual top grossing live action motion pictures, worldwide. Pictorvision's recent production credits include Ride Along, Jack Ryan: Shadow Recruit, Lone Survivor, The Hunger Games: Catching Fire, Thor: The Dark World, The Secret Life of Walter Mitty and Ender's Game. The Eclipse also won the Motion Picture Academy's Scientific and Engineering Award for 2011."

For more information about the Eclipse, contact Pictorvision, 16238 Raymer St., Van Nuys, CA 91406, Phone: 818-785-9282, Fax: 818-785-9787, Email: inquiries@pictorvision.com, www.pictorvision.com

Photo Credit:
Photo caption: Tom Hallman and Stan McClain accepting SOC's Technical Achievement Award.

######

About Pictorvision:
Pictorvision is the first and only company to offer an entire line of Eclipse, Wescam, and Cineflex gyro-stabilized aerial camera systems for capturing thrilling images from above and beyond. Whether the production calls for 3D, HD, 35mm, 4Kdigital, IMAX 35mm, cost-effective SD, or anything in between, Pictorvision's goal is to provide a tailored solution for each project. Revolutionizing a new generation of aerial camera systems, the Eclipse offers the most advanced steering, stability, and pointing capabilities available on the market. Partnering with the world's most creative Directors of Photography, our engineering team integrates user functionality with industry-defining technology, to usher in a new dawn of aerial cinematography. www.pictorvision.com

######
About the Society of Camera Operators:
The Society of Camera Operators, founded in 1979, is an organization dedicated to the advancement of the art and creative contributions of the Camera Operator in the Motion Picture and Television industry. Their goal is to nurture excellence in the field of camera operation and allied camera crafts, encouraging development of both technology and production methods to enhance their work. Society members are kept at the forefront of the industry's ever-advancing technology through their continuing workshops and corporate-sponsored equipment showcases. The SOC publishes the Camera Operator magazine. The Society donates the proceeds of their Annual Lifetime Achievements Awards Event to the Vision Center at Children's Hospital Los Angeles. Membership includes Camera Operators, Directors of Photography, Camera Assistants and Still Photographers. The official website can be found at www.soc.org.