industry news
The Latest Industry News for the Exciting World of Production.
Creative Handbook puts together a bi-monthly newsletter featuring up-to-date information on events, news and industry changes.
Add My Email
By: Synaptic VFX
| January 22, 2014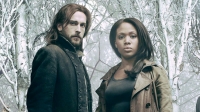 Synaptic VFX has just completed production of original visual effects for the first season of the new, hit FOX TV series "Sleepy Hollow." Synaptic VFX is one of the visual effects vendors for "Sleepy Hollow." The series incorporates feature film level visual effects to help illustrate its re-telling of the legendary story of Ichabod Crane and the Headless Horseman. The announcement was made by Synaptic VFX co-founders Shant Jordan, Shahen Jordan, and Ken Gust.

The season finale of "Sleepy Hollow," which aired on Jan. 20th, carried FOX TV to a demographic ratings victory. For the night, FOX averaged a 2.3 rating among adults 18-49, with 6.9 million viewers overall.

Synaptic VFX worked with the show's overall VFX Supervisor Jason Zimmerman, who, in tandem with Eddie Bonin, the show's VFX Producer, breaks down each episode to develop a shot list where select shots are assigned to Synaptic. Mark Miller serves as Synaptic's In-House VFX Executive Producer for the series.

The diverse range of VFX produced by Synaptic VFX that are regularly incorporated into the series include set extensions, fluid simulations, head removals (for the Headless Horseman character,) CG prosthetics, etc. Each episode of "Sleepy Hollow" can contain anywhere from 30 to 300 digital VFX shots.

"We are thrilled to have played a role in the success of 'Sleepy Hollow,'" says Shant Jordan. "And we are very proud of the high level of quality our team brings to each episode of this series."

"The work delivered in the post end by the talented artists at Synaptic reached the high level of expectations that the show's executive producers and I envisioned in preproduction and production. Working with the Synaptic team through to the finish line has been a great process," adds Jason Zimmerman.

ABOUT "SLEEPY HOLLOW:"
"Sleepy Hollow" is a supernatural drama that premiered on FOX TV in September, 2013-the series airs on Mondays at 9:00 pm. Considered a "modern-day retelling" of the 1820 short story "The Legend of Sleepy Hollow" by Washington Irving, the series was created by Alex Kurtzman, Roberto Orci, Phillip Iscove, and Len Wiseman. "Sleepy Hollow" stars Tom Mison, Nicole Beharie, Orlando Jones, and Katia Winter.

ABOUT SYNAPTIC VISUAL EFFECTS:
Founded in Burbank, CA in Summer, 2012, by visual effects artists Shant Jordan, Shahen Jordan, and Ken Gust, Synaptic VFX provides VFX design, production, 3D stereo conversion, and DI services for feature films, TV series, commercials and 3D stereo conversion productions. Shant Jordan has a strong body of work in supervising and producing visual effects throughout the genres of feature films, television series, and video games. Shahen Jordan is best known for his artistry in the arena of matte painting, concept art, and environmental design. And Ken Gust has extensive experience in the areas of post supervision, including DI workflow, stereoscopic conversion, and finishing.

Collectively, the work of Synaptic VFX's founders has been seen in such hits as "The Green Lantern," "Alice in Wonderland," "Where the Wild Things Are," "Night at the Museum: Battle of the Smithsonian," "Iron Man," Hancock," "Terminator: Salvation," "The Curious Case of Benjamin Button," "Get Smart," and many other feature films. The founders have also contributed 3D stereoscopic VFX to "Ghost Rider: Spirit of Vengeance 3D," "Piranha 3D," "Shark Boy and Lava Girl 3D," and have worked on 3D event installations for Disney and the Annenberg Photo Space. In addition, the founding members of Synaptic VFX have also contributed imagery to a wide array of TV series and specials, commercials, and videogames.

The Synaptic VFX facility offers clients two dedicated editing bays fully equipped for audio editing and mixing, online conform, color grading, and digital delivery; and can work with 4K and stereo 3D material in real-time. The company provides: Compositing Services, including projection, camera tracking, and stereo 3D match moves; On-Set Supervision of VFX; Creative of Visual Effects imagery; Motion Capture, green/blue screen; Pre-Visualization Animatics, including depth plans for stereo 3D sequences; Shot and Sequence Review within the company's 2D/3D screening room; 3D Stereography, and 2D-to-3D Stereoscopic Conversion for feature films and television series.

For more information, please visit: www.synapticvfx.com .