industry news
The Latest Industry News for the Exciting World of Production.
Creative Handbook puts together a bi-monthly newsletter featuring up-to-date information on events, news and industry changes.
Add My Email
By: USITT
| January 15, 2014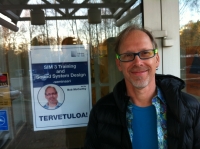 Bob McCarthy, an audio engineer who wrote the book on sound system design, will receive the 2014 Distinguished Achievement Award in Sound Design at USITT's Annual Conference & Stage Expo in Fort Worth March 26-29.

McCarthy, who helped pioneer source independent measurement through his involvement in developing the Meyer Sound SIM analyzer, will be honored for his enormous influence on sound technology at the gathering of some 5,000 members of the performing arts and entertainment technology industry. McCarthy is now Director of System Optimization at Meyer Sound.
USITT, the United States Institute for Theatre Technology, annually bestows Distinguished Achievement Awards on major contributors to the industry.

Besides McCarthy, this year's honorees are Saturday Night Live and Wicked set designer Eugene Lee, Oscar-winning costume designer Ann Roth, Austin Stage Management Mentor Susan Threadgill, Broadway lighting designer Shirley Prendergast, and theatre technology educator Dana Taylor.

One of 200-plus sessions at the Conference will present all six 2014 Distinguished Achievers in Conversation on Friday, March 28. USITT also will highlight McCarthy's specialty by dedicating this year's Sound Lab interactive design experience to live music, allowing participants to mix live shows by Dallas-Fort Worth area bands.

McCarthy's career in sound engineering has had a huge impact on sound system design. A 1970s roadie for the Grateful Dead, the Kinks, and other bands, in 1984 he helped Meyer Sound founder and previous USITT honoree John Meyer create SIM, a precision audio analyzer that has revolutionized the art of sound design and improved listening experiences around the world.
McCarthy has since devoted his career to producing products and teaching technicians to advance his mission of producing live sound so natural it renders the sound system "invisible." He also has authored four books including Sound Systems: Design and Optimization, considered the sound design bible. He has conducted seminars and presentations on sound design at conferences around the world, including the USITT Conference & Stage Expo.
USITT, the national association for the backstage industry, offers, year-round training, networking, and information opportunities. Its four-day Annual Conference and Stage Expo is the industry's leading event for education, networking and resourcing of theatrical products and services. For more information, visit www.usitt.org/2014.