industry news
The Latest Industry News for the Exciting World of Production.
Creative Handbook puts together a bi-monthly newsletter featuring up-to-date information on events, news and industry changes.
Add My Email
ETC's iRFR Donations to Behind the Scenes Approach $150,000

By: ETC
| December 3, 2013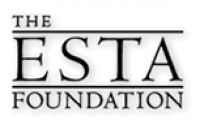 At the LDI show last week, Dennis Varian of ETC presented a check for nearly $26,000 to Behind the Scenes, which reflected ongoing proceeds from sales of ETC's iRFR and aRFR (Radio Focus Remote) application for iPhone, iPod Touch and Android. The donation brings ETC's total Behind the Scenes contributions to date to just under $150,000.

This app was developed by ETC software engineer, Chris Mizerak as a cool tool that ETC thought some might find interesting. When another employee in ETC's London office (Luke Delwiche) suggested that we give the profits to Behind the Scenes and its UK counterpart Light Relief, Fred readily agreed. Since then the sales of the app have exceeded expectations and both charities have benefited greatly.

ETC CEO Fred Foster says, "It's wonderful to see how successful this program has been. Simply by purchasing an app, ETC customers have done so much to help their fellow professionals get through difficult circumstances. We look forward to continuing our support of Behind the Scenes and Light Relief and the great work they do."

ETC's donation was gratefully accepted by Rick Rudolph, the Chair of the Behind the Scenes Committee, who was accompanied by members of The ESTA Foundation Board of Directors, the Behind the Scenes Committee and the Long Reach Long Riders, commented, "We are just stunned and thrilled by the success of this product. It has exceeded our wildest dreams and keeps us from becoming overwhelmed by the requests for assistance we are receiving, which are growing in number exponentially. We are seeing more and more of our colleagues who have spent their careers in our industry facing increasingly desperate situations due to illness or injury. Often Behind the Scenes is their last hope before finding themselves on the streets or without medical care. Programs like ETC's are absolutely vital to our ability to help."

The ESTA Foundation's Behind the Scenes program directly benefits entertainment technology professionals who are seriously ill or injured, from stagehands and designers to employees of manufacturers, dealers and production companies. Grants are tailored to each individual's needs and may be used for medical care and for basic living expenses.

Individuals or companies can support Behind the Scenes by making donations online at www.estafoundation.org/bts.htm or by calling 212-244-1421.