industry news
The Latest Industry News for the Exciting World of Production.
Creative Handbook puts together a bi-monthly newsletter featuring up-to-date information on events, news and industry changes.
Add My Email
By: Hawthorne Direct
| December 12, 2013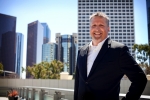 Hawthorne Direct, a full service brand response advertising agency, has promoted John Pucci to the newly created position of Chief Creative Officer. Pucci remains based in the company's Los Angeles office. Jessica Hawthorne-Castro, COO, Hawthorne Direct, made the announcement.

"We are pleased to recognize the contributions of John Pucci to our agency by announcing his promotion to Chief Creative Officer," Hawthorne-Castro said. "In his new post, John will be responsible for creative, digital, and production for the campaigns we produce on behalf of our diverse range of clients. John's creative vision and commitment to collaboration has resulted in outstanding creative productions for our clients for many years, and the development of the best creative and production team in our agency's history. John has been able to accomplish this while simultaneously enhancing Hawthorne Direct's additional channels of print, radio, and digital."

Adds Pucci, "Hawthorne Direct's future has never been brighter. I'm proud to be leading the creative, digital and production teams as we continue to create breakthrough, accountable advertising for our roster of brand name clients."

ABOUT JOHN PUCCI:
Prior to his promotion, John Pucci had been Senior Vice President/Executive Creative Director with Hawthorne Direct since June 2011. Pucci is an award-winning Creative Director with a wealth of talent and experience working on major brands from both agency and client side perspectives. Pucci currently is involved in crafting multi-media advertising campaigns on behalf of such clients as Brother, 3M, Hamilton Beach, Gerber, Transamerica, and many others.

Previously, Pucci led a team of writers, art directors, and motion graphics artists in the creation of Direct Response Television long form and short form content at Euro RSCG Edge. There, his clients included The Humane Society, LifeLock, Quicken Loans and ProFlowers.
As a former Executive Creative Director for both RAPP and Publicis, Pucci led strategy, creative conception and execution for AAA, Bank of America, DirecTV, Neutrogena, Toyota and Nestlé, among many other clients.
Pucci honed his agency skills at DDB, TracyLocke, and Saatchi & Saatchi, while building his in-house experience with brands such as E! Television Networks, Mattel, and Disney.
ABOUT HAWTHORNE DIRECT:
Hawthorne Direct
is a full service brand response advertising agency, specializing in strategic planning, creative development, production, media planning, buying and analytics, and campaign management for integrated marketing campaigns. With nearly 30 years of proven excellence in brand response, the agency combines persuasive brand messaging with best-in-class analytic systems to create accountable, high performance advertising campaigns.
Hawthorne Direct has developed successful award-winning campaigns for brands such as 3M, Gerber, Brother International, Armor All, Bose, Black & Decker, Hamilton Beach, Pella, SanDisk, Transamerica, United Healthcare, Remington and more.
The agency is headquartered in Los Angeles, with the founding office located in the Midwest. Hawthorne Direct was founded in 1986 by Timothy R. Hawthorne, who serves as Chairman/CEO. Hawthorne's daughter, Jessica Hawthorne-Castro, today holds the post of Chief Operating Officer. For more information, please visit
www.hawthornedirect.com
and
http://www.linkedin.com/company/hawthorne-direct?trk=top_nav_home