industry news
The Latest Industry News for the Exciting World of Production.
Creative Handbook puts together a bi-monthly newsletter featuring up-to-date information on events, news and industry changes.
Add My Email
By: LALIFF
| October 21, 2013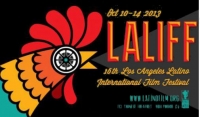 LALIFF's five-day event concludes with Closing Night Screening of NOSOTROS LOS NOBLES and award ceremony in Downtown, Los Angeles, CA

The Los Angeles Latino International Film Festival (LALIFF) concluded its 16th event with the US premiere of one of Mexico's most successful films, "NOSOTROS LOS NOBLES," directed, co-written and co-produced by Gaz Alazraki ("Volver, Volver", and "Respete la Senales"). The Closing Night Gala Celebration was held on Monday, October 14th, 2013 at the Orpheum Theatre in Downtown, Los Angeles.

The festival's biggest winners were also announced at the Closing Night Awards Ceremony sponsored by Cine Latino and Pantelion Films. "ESTHER EN ALGUNA PARTE" directed by Gerardo Chijona took home the Rita Award as Best Film. "JUSTICE FOR MY SISTER" won the award for Best Documentary and "PRINCESAS ROJAS" for Best Opera Prima. Lastly, "EL COCODRILLO" won the prize for Best Short Film. See the complete list of winners below.

LALIFF Executive Director, Programmer and Co-Founder Marlene Dermer quoted Abraham Lincoln saying "Always bear in mind that your own resolution to succeed is more important than any other."


The festival featured 62 films, including 28 features, 11 documentaries and 23 shorts. In addition to the film screenings, the festival hosted filmmaker panels on Saturday, October 12thand Sunday, October 13th with Closing Night Gala after-party presented by Cine Latino.
LALIFF
's highlights included, Pablo Ferro, 16th GABI Lifetime Achievement Award in recognition to his contribution to the entertainment industry in the Hispanic filmmaking community; more than 80 film and television shows, during his 40-year career. "The greatest feeling in the world is when something has been created that no one has ever seen before. And you're the one who is seeing it for the first time." said Pablo Ferro
Winners of the 16th Los Angeles Latino International Film Festival:
Best Feature Film (RITA AWARD):
ESTHER EN ALGUNA PARTE
Director: Gerardo Chijona
Country: Cuba
Best Documentary:
JUSTICE FOR MY SISTER
Director: Kimberly Bautista
Country: USA / Guatemala
Best Opera Prima:
PRINCESAS ROJAS
Director: Laura Astorga
Country: Costa Rica / Venezuela / Nicaragua
Honorable Mention:
WATER & POWER
Director: Richard Montoya
Country: USA
Best Short Film:
EL COCODRILLO
Director: Steve Acevedo
Country: USA
Audience Choice Award:
PONCHA
O
Director: Josh Crook
Country: Dominican Republic
Best Director: Miriam Kruishoop for
GREENCARD WARRIORS
Country: USA
Best Script:
ESTHER EN ALGUNA PARTE
Director: Gerardo Chijona
Country: Cuba
Honorable Mention:
AMOR CRONICO
Director: Jorge Perugorria
Country: Cuba
Visit
www.latinofilm.org
for more information.
About LALIFF:
The Los Angeles Latino International Film Festival (LALIFF
) was founded in 1997 by producer, director, actor and activist Edward James Olmos and independent producer Marlene Dermer.
LALIFF
is a non-profit 501c (3) organization with the mission to support the development and exhibition of diverse visions by Latino filmmakers. To serve as a springboard and catalyst for the promotion of Latin films and filmmakers in the industry locally, nationally & internationally. To develop audiences for such films and in the process bring awareness of the richness and diversity of Latin cultures, artistry and countries through film, the most powerful medium in the world.
A competitive festival with prizes,
LALIFF
serves as a venue where Latino filmmakers come together with industry buyers and distributors.
LALIFF
also offers industry workshops, panels, labs, networking receptions, educational programs, and hosts some of the best Galas in tinsel town.
LALIFF 2013 Sponsors:
Premier Sponsors: Los Angeles Times / Hoy Newspaper
Presenting Media Sponsor: Univision 34 & Univision Radio: KLOVE 107.5FM, KTNQ 1020AM, La Nueva 101.9FM, Recuerdo 103.9FM,
Official Sponsors: City of Los Angeles, DCA Department of Cultural Affairs City of Los Angeles
Opening Night "Gabi" Award Presentation Sponsor: The Coca-Cola Company
Opening Night Gala Sponsor: LIFTT
Closing Night Gala Sponsor: Cine Latino & Pantelion Films
Institute Educational Youth Program Sponsor: American Achieving Family Foundation
Youth Program Cinema Summer Workshop Sponsor: LIFTT
Youth Program Screenings: Fry's, Goya
Official Retail Sponsor: Kmart
Award Sponsors: HBO
Hollywood Connect Sponsor: FilmLA, Inc.
Supporting Sponsors: Panavision, Indie DCP
Film Festival Sponsors: CAA, Sony Pictures, HBO, Titra, Latino Public Broadcasting (LPB), Fundacion Universidad de Guadalajara, EUA, Festival International de Cine en Guadalajara, So Cal Self Storage, The Complex Studios, ITEX LA,
Seminar Sponsor: Writers Guild of America West, Hollywood Foreign Press
Official Water: Kabazon Premium Waters
Official Energy Drink Sponsor: Red Bull Los Angeles
Collaborators: Academy of Motion Picture Arts and Sciences, Consulado General de Mexico en Los Angeles, MTA (Metro Transportation Authority), BAFTA (The British Academy of Film and Television Arts), LACMA (Los Angeles County Museum of Art), LA Federation of Labor, NALIP,
University of California, Long Beach Film & Electronics Department, Cuba Travel,
Arenas Entertainment, L'Scorpion, Cuba Tours & Travel
Media Partners: SBC Latino 96.3FM, La Raza 97.9FM, Exitos 93.9FM, Latino Weekly Review,
KLCS, Creative Handbook, La Prensa Colombiana, LATV, In Hollywood Magazine,
Al Borde/El Clasificado, Para Todos, Latin Heat,
Click Latino Magazine, Somos TV/Viendo Movies
Official PR Wire: Hispanicize
Festival Hosts: H&H Center, TCL Chinese Theatre, Loews Hollywood Hotel, El Capitan Theater, The Orpheum Theatre