Change Region
California
industry news
The Latest Industry News for the Exciting World of Production.
Creative Handbook puts together a bi-monthly newsletter featuring up-to-date information on events, news and industry changes.
Add My Email
By: Digital Hollywood
| October 17,2013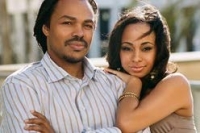 Award winning director Craig Ross Jr.(NCIS, Blue Hill Ave) and his actress wife Caryn Ward Ross (The Game, He's Mine, Not Yours) will be guest panelist at the spring session of Digital Hollywood on Monday, October 21, 2013 and Tuesday, October 22, 2013 at The Ritz Carlton Hotel in Marina Del Rey, California.

Started in 1990, Digital Hollywood is a trade conference covering the fields of film, television, music, home video, cable, telecommunications and computer industries. Some of the top luminaries from these fields attend and lend their expertise to the conference which is the most popular conference of its type.

"Digital Hollywood is one of the most prestigious entertainment industry conferences in the world and I am honored to be a participant," said Craig. It is extra special to be a part of an event that celebrates the integration of entertainment and technology on the heels of the completion of our feature-length project shot solely on the iPhone 5s." "Digital Technology and Hollywood are the perfect marriage. I'm very excited to be a part of this cutting-edge conference," added Caryn.

Craig will discuss Packaging, Funding & Pitching: From Reality TV & Specials to Web Series and
Indie Film Making on Monday October 21, 2013 at 2:30 p.m. Caryn will share her expertise on the panel, "The Women - The Personal Brand, Understanding Lifestyle, Authenticity, Purpose & Resolve" on Tuesday, October 22, 2013 at 10:45 a.m. They will also discuss their latest film project, "The Affair," which is currently in production, being shot entirely with an IPhone 5 and using only natural lighting.

For more information about Digital Hollywood go to www.digitalhollywood.com.

View the teaser at: www.theaffair-themovie.com.

For more information about "The Affair Movie Project" contact James Thomas at
The Red Letter Agency, 310-754-9891.