industry news
The Latest Industry News for the Exciting World of Production.
Creative Handbook puts together a bi-monthly newsletter featuring up-to-date information on events, news and industry changes.
Add My Email
Jay Silverman Directs Pro Football Hall of Fame Legends in New Powerball Advertising Campaign

By: Dan Harary
| October 10, 2013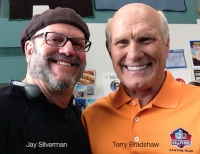 Jay Silverman, a preeminent commercial director based in Hollywood, has directed five of America's biggest football stars in a new, $30- million, multi-media advertising campaign promoting the Powerball Lottery in 18 states. The Silverman-directed TV advertising campaign features Pro Football Hall of Fame players Terry Bradshaw, Warren Moon, Joe Namath, Jerry Rice, and Barry Sanders.


These legends appear together in a unique and entertaining TV promotion that invites Powerball Lottery players to join 100 Pro Football Hall of Famers for the first-ever Pro Football Hall of Fame Fan Festival which will be held at Cleveland's I-X Center on May 3-4, 2014. Powerball Lottery winners who play Powerball Lotteries held in 18 states across the U.S. will also have a chance to attend the "Ultimate Tailgate Party," which will be held the evening before the Fan Festival begins.


To watch the TV spots that comprise this new campaign, please see:
http://youtu.be/0iIqWoBtZ-E
"As a longtime super fan of pro football, working closely with legends like Terry, Warren, Joe, Jerry and Barry was the thrill of a lifetime," Silverman said. "This was a really fun project for everyone involved, and something of a dream come true for a guy like me, who grew up watching these men thrill all of America for so many years."
"Bringing big brands together for a joint promotion can often be a difficult task," said Chuck Strutt, Executive Director of the Multi-State Lottery Association (MUSL.) "But Jay Silverman's seemingly effortless production with Powerball projects, starting with the late Ray Charles promotion, and now working with these professional football legends, makes it all seem easy. Jay and his team manage to pull out the true personalities behind these legends, capturing them for all to see, without any guesswork."
"The time frame we were under for this new campaign bordered on the nearly-impossible," adds Tony Gumina, Executive Producer, Sports Projects, Park Corporation. "We had to develop and approve the creative for three TV spots, two radio spots, and four prints ads. This project was green lit just 23 days before production began, and less than 60 days before the final deliverables were due! There was only one director I know who could have pulled this off -- Jay Silverman of Jay Silverman Productions. He did it with Ray Charles back in 2001, and he pulled it off again-this time with five football legends -- a dozen years later."
About the Powerball Advertising Campaign:
One of America's most popular games, Powerball, has joined with America's titans of football, the Pro Football Hall of Famers, in a distinctive new ad campaign. The ads presented within the campaign depict one couple's decision to play Powerball.
In one spot, we see this couple engage with these football greats while playing games such as darts and billiards, and even dancing with Jerry Rice, himself a "Dancing with the Stars" Season 2 Runner-Up, who does his famous cha-cha. In another spot, the Hall of Famers showcase their skills in a convenience store. We see a Warren Moon "long" pass through the aisles, while Barry Sanders runs right to left across the screen and Joe Namath stands behind the cash register.
Each commercial in the campaign ends with a message from football legend Terry Bradshaw that promotes the Powerball Lottery. For full details and a list of participating states, see:
http://www.profootballhof.com
ABOUT JAY SILVERMAN:
Currently working on a self-produced, independent, feature film entitled "The Secret Place," written by Jay & Joey Curtis (co-writers of "Blue Valentine,") with principal photographer set to begin next January, Jay Silverman began work as a professional photographer at the age of 17, when he photographed the TV show "Kung Fu" for public relations and promotional purposes. Now some 40 years later, with still photography remaining his "first love," Silverman also directs live action multi-media advertising projects for such Fortune 500 clients as McDonalds, Intel, Disney, Coors, Budweiser, GM, Coke, Pepsi, Frito-Lay, Visa, and Gatorade, among many others.
Expanding beyond print photography in l995, Silverman next became a commercial director, and has since successfully balanced a dual career in both still photography and live action direction. His repertoire of national campaigns across multi-media includes those for such clients as Greyhound, Petco, Fifth Third Bank, Carnation, A&W, Pepsi, and Rent-A-Center. Over the years, Jay's work has been honored with numerous Belding, Telly, Promax, and Lucy Awards. In addition, he has also been recognized for his achievements in creating and producing many national PSA campaigns for such worthy causes as the American Cancer Society, the Foundation for the Junior Blind, the Governor's Council on Physical Fitness, the ACLU, and the Sierra Club.
Jay Silverman has also directed countless on-air promotional spots for all of the major broadcast networks, as well as for many cable channel, including the original launches of the smash hit TV series "American Idol," and "Desperate Housewives," and his own series, "The Cleaner." Jay Silverman Productions is located at 1541 N. Cahuenga Blvd., Hollywood, CA 90028. The phone is 323/466-6030, and the web is
www.jaysilverman.com