industry news
The Latest Industry News for the Exciting World of Production.
Creative Handbook puts together a bi-monthly newsletter featuring up-to-date information on events, news and industry changes.
Add My Email
By: GSM Entertainment
| September 16, 2013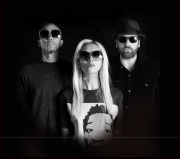 Director Geoffrey S. McNeil, last year's Guerrilla Film Warrior presents his latest music video, Electrio's "Machine". Shot on two RED Epic cameras, the video creates a surreal dystopic dream-like reality. Debuting Melissa Reese as the heroine vocalist struggling against the repressive powers of the "Machine", and it's operators, her bandmates Brain Mantia (Primus, Guns N' Roses), and Scott Donnell (Deep Audio). The song is featured on Darc Records release of Electrio's album entitled "The Cut".

Producer/Director: Geoffrey S. McNeil
Production Company: GSM Entertainment
Producer/Editor: Noah Berlow
Director of Photography: Aaron Smith
Stylist: Lisa L. Martinez
Make-up: Monica Patel

Swing: Adam Smith
Assistant Editor: Kyle Stuart & Josh Williams
P.A.'s - Brent Kim & Josh Cary Morrow


Indie label,
Darc Records
, has announced the release of a brand new record and music video from newcomers, Electrio. The project is a collaboration between drummer/ composer Brain (Primus, Tom Waits), drummer/producer Scott Donnell (Deep Audio, Hal Lovejoy Circus) and singer/composer, Melissa Reese. The album also features appearances by singer Heather Bradley (Deep Audio), drummer Butch Norton (Lucinda Williams) and bass player Lance Morrison (Volto!). The two drummers began production on the recordings in early 2012 in Brain's Venice, California studio and wrapped up writing and recording earlier this year. Brain comments, "When we listened to the mixes, we realized this was more than just a fun side project. Creatively, it was cool and it came together in a super easy way. And it doesn't really sound like anything out there. We tried to avoid cliche Drum and Bass or Trip Hop beats. The production is fresh."
A music video for the first single, "Machine" has just been added to YouTube. The video depicts a classic good vs. evil story. Singer, Melissa, is trapped in the machine by two evil villains played by Brain and Donnell, and is later set free as the story concludes. Production and visual effects for the video are courtesy of LA-based Production Company,
GSM entertainment
. Plans for another video for the single "Bells" is yet to be announced.
For more on Electrio and Darc Records visit
www.darcrecords.com
and for a direct like to the video visit Darc Records' official YouTube channel. Electrio's debut album, The Cut, is available for download on itunes.
About Darc Records
Started by Music Industry veterans, Heather Bradley and Scott Donnell, Darc Records has evolved in to a creative collective that transcends musical genres. Musical licenses and mechanical sales are reinvested in new projects. Darc is less about profit and more about the realization of artistic energy.
Darc Records Contact: darc_records@sbcglobal.net
About GSM Entertainment
GSM Entertainment
is an award winning independent Film, HD and Motion Graphics Production Company. Founded in 1999, as a creative boutique
GSM
ventures worldwide to produce unique, stylized audio/visual campaigns
(310) 205-0370
309 S. Sherbourne Drive #108, Los Angeles, CA 90048
www.gsmentertainment.com