industry news
The Latest Industry News for the Exciting World of Production.
Creative Handbook puts together a bi-monthly newsletter featuring up-to-date information on events, news and industry changes.
Add My Email
By: Iguana Vintage Clothing
| September 11, 2013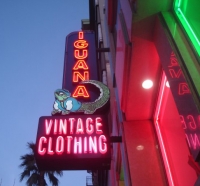 Iguana Vintage Clothing is not a run-of-the-mill vintage shop. The amazing differences in selection, price, and customer service are evident as soon as you walk in the door. Vintage fashions from the 1920's to the early 1990's are immaculately organized throughout the store, with a variety of styles for men, women and even children. As you peruse our racks, you are met with everything from the classic to the eclectic. Almost anything one could imagine can be found at Iguana: from pinup dresses to sports jerseys, from vintage screen tees to sequined corsets, from studded leather belts to dainty satin gloves, from karate robes to hoop skirts. Every vintage piece has a story behind it, and whether you're looking to spice up your wardrobe with a 70's jumpsuit, or give someone a unique gift with a vintage necklace - our selection is second to none. New merchandise comes in weekly, ensuring that there's always something new and amazing to see.

In addition, the store houses a vast selection of costumes, shoes and accessories for Halloween or for your next event. We have all of the most popular styles of new costumes, as well as an impressive collection of eccentric vintage costumes. Wigs, wings, tights and tutus are available to top off your look. Have a costume party to attend anytime year-round? Whatever the theme of the party may be, you can walk out with a head-to-toe outfit customized to your personal style by our knowledgeable, friendly sales staff.

Iguana Vintage Clothing also boasts three convenient locations. Come visit the store that began it all in Sherman Oaks, and browse the carefully selected collection of vintage. Don't want to miss a thing? Visit Iguana Hollywood - the largest vintage store in the country at 20,000 square feet and three stories. Or visit our newest location in Pasadena for a more intimate shopping experience with a personal-shopper vibe. All locations offer both new and vintage merchandise at competitive prices, with ongoing sales and discounts offered in addition.

No matter which location you visit, Iguana Vintage Clothing is the total destination - for those of you looking to find the unique vintage pieces to make your wardrobe memorable, the perfect outfit to stand out at your next party, the original copy of some of the most fashion-forward trends, or a fun way to spend an afternoon.