industry news
The Latest Industry News for the Exciting World of Production.
Creative Handbook puts together a bi-monthly newsletter featuring up-to-date information on events, news and industry changes.
Add My Email
By: Proof, Inc.
| September 9, 2013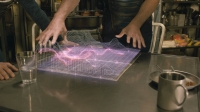 Proof Inc., one of the film industry's leading visualization houses, provided Previsualization and Postvisualization services, as well as final Visual Effects and some Motion Graphics imagery, for Universal Pictures' Riddick, it was announced today by Proof's Creative Director/Founder Ron Frankel. Currently in theaters, the film opened # 1 this weekend at the box office.

Spearheaded by Proof's VFX Supervisor Raul Moreno, Proof provided the Previs for 10 shots presented in Riddick, including several scenes depicting spaceships. Proof also provided several Postvis shots in which 3D models of these spaceships were matched up against original plates. In addition, Proof was involved with the look development of a number of shots, including those in which some of the film's characters interact with a 3D map, as well as with a machete weapon. Proof also provided some finished 3D motion graphics sequences featured in the film.

Working closely with director David Twohy, Raul Moreno and Proof also finished 30 VFX shots featured in Riddick. Proof began working with the plates, and moved on to 3D tracking, modeling, texturing & lighting, 2D tracking & integration, camera match moves, and ultimately to final compositing & rendering.

Gunnar Hansen, VFX Supervisor on Riddick, said," "Proof's work on the visual effects for this film really helped editorial tell the story. These shots were editorially sensitive, depicted several important moments within the storyline, and allowed our director David Twohy to provide Proof with quick feedback. The quality of Proof's finished VFX shots was so good, in fact, that a number of them even appeared in the film's trailer. Working with Proof on Riddick was an excellent experience. They really stepped up to the plate, and did a truly great job."


ABOUT RIDDICK
Riddick
, the latest chapter of the groundbreaking saga that began with 2000's hit sci-fi film
Pitch Black
and 2004's
The Chronicles of Riddick
, reunites writer/director David Twohy (
A Perfect Getaway
,
The Fugitive
) and star Vin Diesel (the
Fast and Furious
franchise,
xXx
). Diesel reprises his role as the antihero Riddick, a dangerous, escaped convict wanted by every bounty hunter in the known galaxy. See:
www.riddickmovie.com
ABOUT PROOF INC.
Founded in 2002 in Los Angeles by Ron Frankel,
Proof Inc.
is one Hollywood's leading providers of high-quality visualization services for the feature film and live entertainment industries. In addition to
Riddick
, the company's other recent projects have included
Fast & Furious 6
,
Man of Steel
,
The Hangover, Part 3
,
42
,
Hansel & Gretel: Witch Hunters
,
The Amazing Spider-Man
, and
The Hunger Games
, to name just a few.
Upcoming projects include
The Hunger Games: Catching Fire
,
Captain America: The Winter Soldier
,
Guardians of the Galaxy
, and
Fast & Furious 7
.
From the start of development through to delivery, the talented digital artists of
Proof
help filmmakers tell their stories and realize their visions. Whether a major studio feature film, a large-scale architectural installation, a TV commercial, or a live concert,
Proof
's unique blend of visual artistry and technical expertise ensures that the company's work on any project is as accurate as it is evocative.
Proof
specializes in four areas of creative services:
Previs:
A collaborative process using 3D animation software and real-time computer graphics to generate preliminary versions of shots or sequences;
Virtual Production:
Proof
provides on-set visualization, the synchronization and compositing of live photography with 2D or 3D virtual elements, for immediate visual feedback;
Postvis:
This is a creative process whereby filmmakers can direct the parts of their film that weren't captured during photography because they were either impractical or impossible to get in camera;
Event Visualization
:
Proof
's artists have the ability to create accurate visualizations to test designs for any kind of event, ranging from a theme park ride to a fashion show, and from a concert to an urban scale multi-media projection.
Proof
's Headquarters Office is located at 5150 Wilshire Blvd., Suite # 300, LA, CA, 90036. The phone is 323/465-6930 and the website is:
www.proof-inc.com