industry news
The Latest Industry News for the Exciting World of Production.
Creative Handbook puts together a bi-monthly newsletter featuring up-to-date information on events, news and industry changes.
Add My Email
By: Eden FX
| August 12, 2013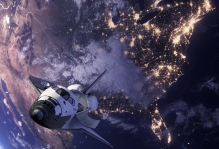 Eden FX, a leading creator of visual effects for the entertainment industry, has created 26 minutes of original content currently on display at the newly opened (June 29th) Space Shuttle Atlantis attraction at Kennedy Space Center Visitor Complex in Cape Canaveral, Fla. Eden's client for this project was Mousetrappe. John Gross, Eden FX Creative Director/Founder, made the announcement.

Mousetrappe was charged with producing a three-act show, which is presented to visitors to the Space Shuttle Atlantis exhibit. Eden FX was retained by Mousetrappe in December, 2012, to create and produce over 26 minutes of digital sequences which are interwoven among live action within the films presented at the site.

For Act One, the preshow, Eden provided digital set extensions to depict the original warehouse in which the shuttle was first conceived. Eden also produced 16 long digital sequences seen within Act Two in the main theater, which present the history and overall story of the Space Shuttle program. Act Three is shown to visitors on an enormous, 120' x 20' LED screen, where 11 minutes of Eden generated animation depicts various space technologies flying high above the Earth.

Eden's digital presentations include the Space Shuttle Atlantis itself, an Extra Vehicular Activity (EVA) Suit, the International Space Station, the Hubble Space Telescope, an Earth model, Hubble footage, and various other space-themed images.

Said Gross, "This was a very exciting project for us. Eden has a long history of creating CG space imagery for both science fiction shows and documentaries, but this project was particularly thrilling given the historical significance of Atlantis. We're really proud of our accomplishments on this six-month long project."

"Having the opportunity to create and produce the films for Space Shuttle Atlantis was truly significant for our team here at Mousetrappe -- an honor. We are really proud of the final results and Eden FX was a major contributor to that effort," commented Daren Ulmer, Mousetrappe's President and Chief Creative.

To experience some of the initial reviews and photos of the new Space Shuttle Atlantis exhibit, please see:

http://boingboing.net/2013/07/01/atlantis-returns-to-kennedy-a.html

http://usatoday30.usatoday.com/video/ksc-exhibit-offers-exclusive-view-of-space-shuttle-atlantis/2505391755001

http://science.nbcnews.com/_news/2013/06/25/19135751-a-dream-turning-into-reality-shuttle-atlantis-exhibit-to-open?lite

http://www.collectspace.com/news/news-062513b.html


Credits
Client: Delaware North Companies Parks & Resorts,
Operators of
Kennedy Space Center
Visitor Complex for NASA
Agency: Mousetrappe
Daren Ulmer, Mousetrappe's President and Chief Creative
Production:
Eden FX
John Gross - Creative Director
Christian Bloch - CG Supervisor & Lead Artist
Mark Hennessy-Barret - CG Artist
Anthony Vu - Modeling & Shading
Eric Hance - CG Artist
Emmanuel Yatsuzuka - Modeler
Rebecca West - VFX Producer
About Kennedy Space Center Visitor Complex
Kennedy Space Center
Visitor Complex brings to life the epic story of the U.S. space program, offering a full day or more of fun and educational activities, including the Kennedy Space Center Tour featuring the Apollo/Saturn V Center with an actual Saturn V moon rocket, the new Angry Birds™ Space Encounter, Shuttle Launch Experience, 3D IMAX® space films, Astronaut Encounter, Exploration Space: Explorers Wanted and many other interactive exhibits. Admission also includes the U.S. Astronaut Hall of Fame®, featuring historic spacecraft and the world's largest collection of personal astronaut memorabilia, which opens daily at noon and closing times vary by season. Only 45 minutes from Orlando, Fla., Kennedy Space Center Visitor Complex opens daily at 9 a.m. with closing times varying by season. Admission is $50 + tax for adults and $40 + tax for children ages 3-11. The
Kennedy Space Center
Visitor Complex Commander's Club Annual Pass is $63 + tax for adults and $53 + tax for children ages 3-11. For more information, call 877-313-2610 or visit
www.KennedySpaceCenter.com
.
ABOUT MOUSETRAPPE
Mousetrappe is a Burbank, California media-based design and production studio that exclusively creates entertainment and cultural attractions, exhibits, and shows. Experts in massive-scale mapped projection design and emotionally engaging experiences, Mousetrappe has created some of the most complex and entertaining architectural projection shows seen to date for Disney and Universal theme parks, as well as the highly regarded "Beyond All Boundaries 4D Cinematic Experience" film for the National WWII Museum with Executive Producer Tom Hanks.
ABOUT EDEN FX
Formed in 2000,
Eden FX
is an award winning studio specializing in 3D animation, virtual environments, compositing, matte painting, character animation, and on-set supervision for film , television and special venues. Among the TV and film projects for which the company has provided visual effects are "NCIS," "Teen Wolf," "Person of Interest," "LOST," "Fringe," "Chuck," "Army Wives,"
The Social Network
,
Safe
,
Temple Grandin
,
The Road
, and
Superman Returns
, to name some.
Eden FX
, a Point .360 company, is located at 12421 West Olympic Blvd., Santa Monica, CA 90064. The phone is 310/481-7002. Please visit
www.edenfx.com
for more information.