industry news
The Latest Industry News for the Exciting World of Production.
Creative Handbook puts together a bi-monthly newsletter featuring up-to-date information on events, news and industry changes.
Add My Email
32TEN Studios Provides Practical Effects for Disney's The Lone Ranger

By: 32TEN
| July 24, 2013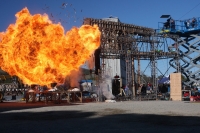 32TEN Studios, a practical effects company based in San Rafael ( CA) servicing the entertainment, advertising, and corporate industries, has provided a number of practical effects for Disney/Jerry Bruckheimer Films' The Lone Ranger, which opened July 3rd in the U.S.

On behalf of client Disney, 32TEN worked directly with Disney's Associate Producer & VFX Producer Shari Hanson, and with ILM's VFX Supervisor Tim Alexander and MPC's VFX Supervisor, Gary Brozenich. The film's director Gore Verbinski had previously worked with 32TEN Studio's Practical FX Supervisor Geoff Heron on several of Disney's Pirates of the Caribbean films.

The primary sequence created by 32TEN was the destruction of the train trestle bridge, including several shots of the bridge blowing up and collapsing. The shots were meticulously choreographed in Previz by Alex Cannon, directed by Verbinski himself, and handed to 32TEN to be shot using 1/5th scale miniatures.

Three separate sections of the bridge were built at 32TEN Studios by Model Supervisor Ben Nichols and a team of 22 model makers, with help from one of the movie's Production Designers Crash McCreery, and VFX Supervisor Tim Alexander. At 1/5th scale, the largest model was 33 feet long and 25 feet tall. The three sections were placed outdoors in the backlot at 32TEN, inside a 50 x 50 water tank, and against an 80 x 32 foot green screen. They were shot using high speed Vistavision. Heron and his team used pyro, hydraulics and mechanical rigs to create the destruction required by Verbinski, who was watching closely from LA via a live video feed.

In addition, the 32TEN FX team also spent a week shooting other practical elements and pick up shots with extras, both for ILM and for MPC in London. Both facilities were able to supervise via live feed to London, Los Angeles and San Francisco.

Gore Verbinski, director of The Lone Ranger, said, "I knew, as we set out to design the narrative, that the story of The Lone Ranger was going to be epic. It was therefore critically essential to ground the film in as much reality as possible; I wanted the audience to taste the dust. So we made it the way westerns were made in their heyday - filming across five states and embracing everything nature threw at us. When it came time to scale the larger than life effects, 32TEN Studios were in stride with that intention. They knew how important it was to get this exactly right: To make things feel raw, dynamic, and gravitationally correct. They painstakingly adapted their approach through craft, passion, and good cinematographic science, until it was absolutely believable. It is almost a lost art, and I am so happy to have a team like 32Ten around who knows all the tricks of the trade and are constantly advancing it to the next level. They make cheating the eye, honest work."

Shari Hanson, Associate Producer & VFX Producer for The Lone Ranger, said, "Working with the amazing talent at 32TEN is like coming home for me. Over the years, I've worked with this team on hundreds of miniatures and practical effects. When our big miniatures and key special effects elements came up for The Lone Ranger, I knew we needed absolute perfection matching into our live action film. The 32TEN team was able to deliver in our true 'Lone Ranger' style of large scope and spectacular images, all beautifully executed."

Crash McCreery, who, along with Jess Gonchor, is a Production Designer on The Lone Ranger, adds, "Working with the artists and technicians at 32TEN reminded me of why I got into this business in the first place. With CG taking over so much of the visual effects needs of films these days, it was fantastic to actually watch a practical model, built by hand, blow up for real - to feel the heat and concussion of the explosion. 32TEN had such a challenge set before them - to replicate an event originally constructed and executed entirely in a computer generated animatic. The rig they built was truly a work of engineering genius. The artists reproduced every detail to the tee. To witness this little piece of film history take place in real life was a rare treat."

The 32TEN team involved in the FX for The Lone Ranger included:
Model Supervisor - Ben Nichols
FX DP - Pat Sweeney
FX Supervisor - Geoff Heron


ABOUT THE LONE RANGER
From producer Jerry Bruckheimer and director Gore Verbinski, the filmmaking team behind the blockbuster
Pirates of the Caribbean
franchise, comes Disney/Jerry Bruckheimer Films'
The Lone Ranger
, a thrilling adventure infused with action and humor, in which the famed masked hero is brought to life through new eyes. Native American warrior Tonto (Johnny Depp) recounts the untold tales that transformed John Reid (Armie Hammer), a man of the law, into a legend of justice-taking the audience on a runaway train of epic surprises and humorous friction as the two unlikely heroes must learn to work together and fight against greed and corruption.
The Lone Ranger
also stars Tom Wilkinson, William Fichtner, Barry Pepper, James Badge Dale, Ruth Wilson and Helena Bonham Carter.
A Disney/Jerry Bruckheimer Films presentation,
The Lone Ranger
is directed by Gore Verbinski and produced by Jerry Bruckheimer and Gore Verbinski, with screen story by Ted Elliott & Terry Rossio and Justin Haythe and screenplay by Justin Haythe and Ted Elliott & Terry Rossio.
The Lone Ranger
released in U.S. theaters on July 3, 2013.
ABOUT 32TEN STUDIOS
Launched in early 2012 by longtime entertainment industry leaders Tim Partridge and Greg Maloney,
32TEN Studios
is a production facility and Practical FX services provider located in San Rafael. The company provides its services to producers of major motion pictures, independent films, TV programs, commercials, industrials, web content and multi-media projects.
32TEN Studios
is located at 3210 Kerner Blvd., San Rafael, CA, 94901. The phone is 800 717 3210, and the website is:
www.32ten.com