industry news
The Latest Industry News for the Exciting World of Production.
Creative Handbook puts together a bi-monthly newsletter featuring up-to-date information on events, news and industry changes.
Add My Email
July 1, 2013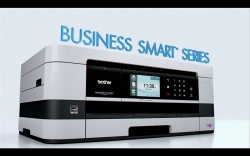 Hawthorne Direct, a full service brand response advertising agency, has produced new one and two-minute commercials in conjunction with PJA Advertising for Brother International Corporation. PJA Advertising was responsible for the creative. The announcement was made today by Chief Operations Officer Jessica Hawthorne-Castro, Hawthorne Direct.

Entitled "Nobody Said," the new spot depicts a man carefully reviewing an assortment of printers at his local office electronics retail store. He stops in front of a new product--the "Business Smart Inkjet All in One" printer from Brother. The voice over announcer says, "It's the ultimate combination - Fast print speed, small size, and low cost printing." The spot continues to showcase the variety of special features offered by the new printer, including increased productivity, smaller footprint size and landscape printing technology. The new machine connects wirelessly and offers users the ability to print directly from their mobile devices.

To view the new Brother spots, please see:
http://wdrv.it/ZYrYgC (one minute commercial)
http://wdrv.it/17G7aQ8 (two minute commercial)

Regarding the new campaign, Marketing Communications Manager Mike Wanzie, for Brother International Corporation, said, "The campaign that PJA and Hawthorne created for us has been successful and effective. We are pleased with the results from this campaign and we look forward to continued innovative and accountable advertising ventures in the future."

Adds Account Supervisor Hanna Adams of PJA Advertising: "We worked in tandem with Hawthorne Direct on this new Brother campaign because of their accomplished brand response television track record in drive to retail marketing. We also sought to involve them, since their production expertise was a compatible fit with our creative approach."

Hawthorne Direct COO Hawthorne-Castro said, "While we are best known for offering full-service brand campaigns to our clients, including creative, production, media placement and detailed analytic sales results, we also enjoy producing campaigns that come to us directly from other creative agencies. We have a terrific relationship with PJA Advertising, who brought this new Brother assignment to us because they trusted our drive to retail expertise and our renowned production capabilities."

Neil Gabriel, Executive Producer, Hawthorne Direct adds, "Brother had successfully launched a :30 Brand campaign with PJA earlier in the year. So when it came to creating a new DRTV and retail response campaign, PJA reached out to nearly 20 different production companies to find that right partner. We won out. I credit much of that win to the due diligence of PJA as well as our industry wide reputation and experience that Hawthorne Direct enjoys. I also believe it was our ability to bring together a talented team of production and visual effects artists that was able to provide the same high level of production value that Brother and PJA were accustomed to. In the end, we were able to create a campaign that would help our client successfully raise the consumer's awareness of their new product."


ABOUT BROTHER BUSINESSSMART
Brother
engineers have redesigned the Brother™ Inkjet All-in-One printer, rethinking it from the ground up. The new Business Smart Inkjet All-in-One delivers fast print speed, small size, and low cost printing.
For more information, please see:
http://www.brother-usa.com/MFC/Business-Smart/Home.aspx#.Ua5kJ0C1HTo
ABOUT PJA ADVERTISING
Based in Cambridge, MA,
PJA Advertising + Marketing
specializes in building a brand, simplifying a complex purchasing process, re-imagining what business to business advertising can be, or simply helping buyers make informed choices in the increasingly noise universe of media options and opinions.
Founded in 1988 as Philip Johnson Associates, today
PJA Advertising
combines marketing strategy and creative curiosity to find the hidden truths that others are missing - to help innovative brand challenge convention and find an unfair advantage against outsized competition.
PJA Advertising + Marketing
was recognized as one of the "Top BtoB Agencies of the Year" by AdAge's BtoB Magazine in 2012. In addition to the agency's significant year-over-year revenue increase of 32%, PJA added a range of new clients to its roster. These included Red Hat, Genzyme, FIS Global, Equinix, Parallon Business Solutions and American Student Assistance. In 2012, PJA also expanded its global presence while deepening its international partnerships with agencies in Europe and Asia.
Increasingly,
PJA
attributes its success in a difficult advertising market to building integrated marketing programs that combine paid, earned and owned assets; inviting target audiences and influencers to participate as content creators; and bringing together media, planning, digital and creative from the very beginning. Please see:
http://www.agencypja.com/about
ABOUT HAWTHORNE DIRECT
Hawthorne Direct
is a full service brand response advertising agency, specializing in strategic planning, creative development, production, media planning, buying and analytics, and campaign management for integrated marketing campaigns. With nearly 30 years of proven excellence in brand
response, the agency combines persuasive brand messaging with best-in-class analytic systems to create accountable, high performance advertising campaigns.
Hawthorne Direct
has developed successful award-winning campaigns for brands such as 3M, Armor All, Bose, Black & Decker, Hamilton Beach, Pella, SanDisk, Transamerica, United Healthcare, and more.
The agency is headquartered in Los Angeles, with the founding office located in the Midwest.
Hawthorne Direct
was founded in 1986 by Timothy R. Hawthorne, who serves as Chairman/CEO. Hawthorne's daughter, Jessica Hawthorne-Castro, today holds the post of COO. For more information, please visit
www.hawthornedirect.com