industry news
The Latest Industry News for the Exciting World of Production.
Creative Handbook puts together a bi-monthly newsletter featuring up-to-date information on events, news and industry changes.
Add My Email
By: Athena Studios
| June 24, 2013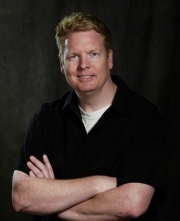 Athena Studios, an Emeryville, CA-based company that provides full production services for film, TV, advertising, and multimedia clients and projects, has signed CG Animation Production Manager Brice Parker to the newly created position of Producer. Parker will oversee development of the studio's forthcoming original stop motion and visual effects projects. Jon V. Peters, Founder of Athena Studios, made the announcement.

Most recently, Parker spent eight years with Disney•Pixar, where he managed Pixar's DVD Team, Theme Parks Project Teams, and Toons Art Department. He also produced the highly successful "Pixar In Concert" symphony.

In addition to Pixar, Parker's experience includes working in Visual Effects Production Management for the Jurassic Park and Matrix film franchises. He also holds a story credit on "Star Trek: Deep Space Nine." Parker also serves, along with Athena Studios CEO Jon Peters, on the Board of Directors for the Visual Effects Society (VES) Bay Area Chapter.

Said Peters, "Brice is truly a gifted producer of animated content, and instantly becomes a major new asset to Athena Studios. Our goal for the next several years is to become a content creator of high-profile, animated motion pictures. Brice has extensive expertise in this arena, and is helping us assemble a new production team that will be unmatched."

Adds Parker, "Athena Studios is embarking on an exciting new chapter of original content development, and I'm thrilled to be at the epicenter of that vision. The studio is already recruiting world-class talent to join its roster, and is poised to establish itself as a new creative voice in the Bay Area. We're already hard at work on some phenomenal projects."

About ATHENA STUDIOS
Athena Studios was launched in Summer 2012 as a full service production facility designed to help companies with production and visual effects services. Athena offers a fully lit green screen studio for daily or long-term rental. Athena also provides stop motion, CG, and post production services, including digital restoration and color grading.

Athena Studios is located off Highway 80 in Emeryville, CA., in the heart of Northern California's "New Hollywood" -- near Pixar, Tippett Studios and Ex'pression College for Digital Arts. For more information, please see: www.athenastudios.com.