industry news
The Latest Industry News for the Exciting World of Production.
Creative Handbook puts together a bi-monthly newsletter featuring up-to-date information on events, news and industry changes.
Add My Email
By: Saville Productions
| June 10, 2013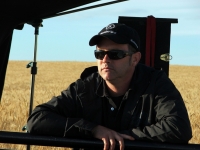 Saville has signed award-winning director Wayne Craig for commercial spot representation in North America. Wayne has just won the AMPIA award for Best Television Commercial for his epic period piece 'The Demo.' Helmed for energy company TransAlta, the outstanding spot takes us into the magical world of the Calgary stampede grounds as seen through the eyes of a young boy in 1912. Throughout his successful career in Canada, Wayne has won over 70 international awards, including a Cannes Lion, the London International Awards, the Bessie and the prestigious CLIO Award.

Wayne made his first notable mark in the US by helming Tax Act's Super Bowl commercial debut in 2012. The quirky story about a boy desperately seeking a place to relieve himself gained both national attention and praise, and was featured on Good Morning America and The Huffington Post, which rated it as one of the most popular spots during the Super Bowl broadcast.

Wayne seamlessly maneuvers his role as both a storyteller and problem solver to create dynamic ads. His recent spots for Science World and TransAlta highlight his ability to be both filmic and relatable. It also showcases his ability to combine a sense of humor with a humanistic touch while driving home the client's message. Wayne adds, "Saville's passion for advertising resonated with me and made them a natural step in my directorial career. It is an incredible opportunity to work with top-notch agencies and clients. I look forward to funnelling my creativity into fun and challenging projects.

At Saville, Wayne joins a high-profile roster of feature film directors including: Martin Campbell, Paul Haggis, Barry Levinson, James McTeigue, Bryan Singer, Wim Wenders, Roger Michell and high-end commercials directors including: David Harner, Benoit Gabriel, Dylan Goss, Landis Smithers, and Rick Mereki, among others.

About Saville
Based in Los Angeles and founded in 1995, Saville Productions is a growing transmedia company with a roster of some of the most talented commercial directors from around the globe. Saville has produced hundreds of commercials worldwide with some of the most widely acclaimed, prominent award-winning commercial and feature film directors, including Hollywood's top filmmakers. Our directors have won numerous Academy Awards, Emmys, Golden Globes, Cannes Lions, D&AD's, Clios, and about every award in film, TV, Advertising and Entertainment. Saville is currently developing, creating, and producing projects in advertising, film, TV, branded content and videogames.

Saville has three commercial divisions: Commercial directors, Feature Film directors, and New Media directors.