industry news
The Latest Industry News for the Exciting World of Production.
Creative Handbook puts together a bi-monthly newsletter featuring up-to-date information on events, news and industry changes.
Add My Email
June 5, 2013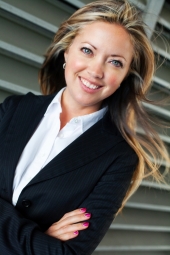 Hawthorne Direct, a full service brand response advertising agency, has promoted Jessica Hawthorne-Castro to Chief Operating Officer. Hawthorne-Castro had been the company's Vice President of Operations & Client Services. The announcement was made today by Tim Hawthorne, Chairman/CEO and Founder of Hawthorne Direct.

Representing the "next generation" of brand marketing experts, Hawthorne-Castro, Tim Hawthorne's daughter, will remain based in the company's Western Regional offices in Los Angeles. In her new position, she will focus her efforts on the company's internal affairs, helping to shape the future direction of the agency by empowering department heads with additional duties and ensuring the efficiency and productivity of all inter-departmental efforts, both in Los Angeles and the Midwest office locations.

Regarding her promotion, Hawthorne said, "Six years ago, Jessica proved herself to be a rising star as one of the youngest female Hollywood agents at the William Morris Endeavor Talent Agency. Since coming to our agency in 2007, she has proven herself once again, showing impressive strength in operations and strategy and fundamentally changing our company's mission statement for the next generation. As CEO, I couldn't be more appreciative; as a father, I couldn't be more proud."

Adds Hawthorne-Castro, "I have always been extremely optimistic about the direct response industry, as I believe accountable advertising is where the future of marketing for brands has long been headed. It is more important than ever for CMOs and CFOs of large corporations to have accountability for their expenditures-they want to ensure that their money is working for them, and we can ensure an ROI for every marketing dollar spent. We specialize not only in developing the creative messaging of our clients' ad campaigns and in targeted media placements, but we are also renowned for providing the detailed and breakthrough analytics behind every aspect of a campaign. Hawthorne Direct provides fully integrated marketing efforts and truly accountable advertising. We are positioning ourselves as the marketing agency of the future, with the goal of helping our clients significantly elevate their brands."