industry news
The Latest Industry News for the Exciting World of Production.
Creative Handbook puts together a bi-monthly newsletter featuring up-to-date information on events, news and industry changes.
Add My Email
By: Animals of Montana
| June 4, 2013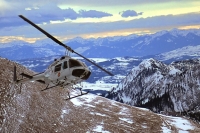 A truly unique experience. The Animals of Montana Heli Tour is the only one of its kind. Take an unforgettable flight aboard the Bell 206L4 and you will find yourself atop one of the more impressive mountain ranges in Montana, "The Crazies".

Its just you, your camera, a stunning view; oh, and not to mention, "Mekong", our gorgeous snow leopard.

Our trainers, Troy and Demetri will be guiding your tour while you witness our snow leopard poised amidst the majestic back drop of the Crazy Mountains.

It's a quick jaunt from lift off to landing but it will be a memory to last you a life time! For more tour info contact us at: www.animalsofmontana.com

About Mekong

The snow leopard often referred to as the "Mountain Ghost", is deemed one of the most mysterious species on the planet.

They are able to navigate the most rugged of terrain at altitudes ranging from 8,000-20,000 feet.

Mekong, our male snow leopard, is right at home in the comfort of the Crazy Mountain Range. You will be able to capture images of him romping and roaming amid his natural habitat.

Check out our blog and read more about Troy and the captivating moments he's witnessed while working with these elusive creatures!

Did you know? The snow leopard can not roar due to the absence of a larynx.