industry news
The Latest Industry News for the Exciting World of Production.
Creative Handbook puts together a bi-monthly newsletter featuring up-to-date information on events, news and industry changes.
Add My Email
Humboldt County, California Featured in "After Earth"

By: Cassandra Hesseltine
| May 15, 2013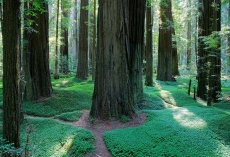 The much anticipated feature After Earth, the latest sci-fi action adventure starring Will and Jaden Smith, is set to open on Friday, May 31st. Directed by M. Night Shyamalan, After Earth shot nine days in the redwoods of Humboldt County, California. While one day was filmed on private land, most of the shoot took place in Humboldt Redwoods State Park.

State Park Ranger John O'Rourke won State Public Employee of the Year at last October's COLA (California On Location Awards) for his superb efforts helping make the shoot happen in Northern California. "I feel so lucky to have a group of rangers that really understand the needs of the park as well as the needs of film productions," Cassandra Hesseltine, Humboldt-Del Norte County Film Commissioner, said of her relationship with the rangers, "They have made filming in a state park so much easier by their positive and supportive attitude."

For information on filming in Humboldt County, visit www.filmhumboldt.org.

About Humboldt County Film Commission
More than just beautiful diverse locations, although we do have redwoods, ranchlands, historic small towns, Victorians, wineries, a University, six rivers, sand dunes, the Pacific Ocean and so much more. We also have a skilled crew base, dynamic art, theatre and music scene, quick permitting, filming discounts and many other extra incentives.