industry news
The Latest Industry News for the Exciting World of Production.
Creative Handbook puts together a bi-monthly newsletter featuring up-to-date information on events, news and industry changes.
Add My Email
By: Animals of Montana
| April 10, 2013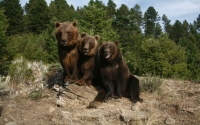 Animal training is an art form that continues to intrigue us. It is a career path that only a chosen few are gifted to pursue, and commands undying dedication to animals and a passion for learning the laws of their behavior.

Animal trainers have an extremely unique skill set, one that challenges the laws of communication and continues to mystify the human mind. This month, log on to our blog and learn more about how both humans and animals can learn behaviors through shaping.

Shaping is a step-by-step process where the animal is reinforced for each successive approximation -breaking down the behavior into a sequence of simplified steps.

Animals can also learn through observational training. They simply learn by watching other animals behave without the use of external reinforcement.

For more interesting reading on this subject matter, take a look at Cesar Millan, the Dog Whisperer, in action as he utilizes this method.

About Animals of Montana
Animals of Montana is a full service Wildlife casting agency that has over 20 years of experience in this industry. They cater to the needs of photographers, amateur and professional and also to the motion film industry.

What separates Animals of Montana from the competition is the fact that all of their animals are worked with day in and day out from just days old. This develops a special bond between animal and trainer, which in turn eliminates misbehaving, unruly, scared animals. When you need a special behavior to fit your script or photography needs, the trainers will customize training for that particular animal insuring the behaviors you need.

The habitats available for filming are endless. They have areas very similar to that of Yellowstone National Park, ranging from mountain backdrops and vistas, rocky ledges, Douglas Fir forests, alpine and lowland meadows, and much more. Their trainers are also available to act as "stuntmen", giving you even more opportunities to get just what you are looking for in your film.

Troy Hyde, master trainer and founder of Animals of Montana takes pride in how far his business has come and will advance into the future. His passion is the animals and forever will be.