industry news
The Latest Industry News for the Exciting World of Production.
Creative Handbook puts together a bi-monthly newsletter featuring up-to-date information on events, news and industry changes.
Add My Email
By: J. R. Kliaman
| April 8, 2013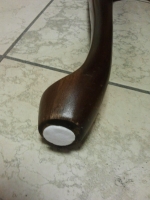 Wholesale Tape is in full bloom with new products. Another sensitive surface product for protection has been added to our line. We understand that profits can be quickly lost in the hidden cost of after event repairs. Our Felt Protector Pads were developed to address this specific issue. Felt Protector Pads offer temporary floor scuff protection at your fingertips.

-No Measuring -No Scissors -No Knives -No Tools -No Waste
QUICK AND EASY
Just remove felt pad from protective paper, apply and done. These die-cut pressure sensitive strips and coins can be applied to chairs, furniture, tripods and equipment to reduce the probability of scratching or scuffing sensitive surfaces.
AVAILABLE: Black or White
Strips: 3/4" x 1.5" x 1/6" or 3/4" x 2.25" x 1/16"
Coins: 1" Diameter Circles
For more information or samples:
Contact:
Wholesale Tape & Supply
800-642-8273
818-781-8388 Fax
info@wholesaletape.com
www.wholesaletape.com