industry news
The Latest Industry News for the Exciting World of Production.
Creative Handbook puts together a bi-monthly newsletter featuring up-to-date information on events, news and industry changes.
Add My Email
By: Mark R. Madler; San Fernando Valley Business Journal
| April 4, 2013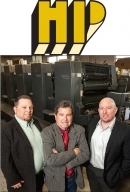 The printing presses at The Harman Press this time of year pump out brochures and programs for entertainment award shows and political material for upcoming elections.

There's little new about that, given the company's 70-year-history, but now instead of running in Hollywood, the presses are operating in the San Fernando Valley. The family-operated firm moved in January to a 24,000-square-foot building in North Hollywood. The new facilities will increase efficiency and allow the company to pursue new markets such as outdoor banners, billboards, signs for taxi cab roofs and retail point-of-purchase displays. "You need more space to produce those types of items," said President Phil Goldner.

The new headquarters is a large single building at 6840 Vineland Ave. It replaces a warren-like configuration of multiple buildings Goldner owns on a stretch of Highland Avenue south of Santa Monica Boulevard in Hollywood. That property will be sold. The move also brings other benefits, such as easier deliveries without the Hollywood traffic.

And, as Goldner pointed out, it was a homecoming of sorts as the Goldner family grew up in the San Fernando Valley. Goldner, 44, is the third generation of the family to operate Harman. His brother Fred, 45, is vice president and head of sales. Their father, Jay, remains active in the business in an advisory role.

The Harman Press has defied the odds by not only surviving but thriving in a digital age - and a recession - that has put other commercial printers out of business. The National Association for Printing Leadership, an East Rutherford, N.J. trade association, estimates there were 27,200 printers in 2011, a decrease of 11 percent from 2007.

Harman's client base is a mix of political campaigns - particularly Democrats that support a union shop - and entertainment companies.

Also, the printer has taken an aggressive approach in securing new business in the Asian market by hiring staff fluent in the languages who handle the advertising and promotion.

Harman has faced the digital challenge by using Facebook and Twitter to congratulate Oscar-winning studio clients, and using Pinterest to show off its newest graphic designs. The company is also remaking its website for online ordering and uses Google Docs to create its own customer relationship management system, used by the sales staff to update account status and generate leads.

Modest origin
The business was founded in Hollywood by Lou Harman, a friend of Joseph Goldner, Jay Goldner's father. The eldest Goldner turned Harman's stationery business into a full-scale print shop. The firm still owns a vintage Heidelberg press from that era that performs foil stamping and uses old-fashioned movable type.

"I cannot name names but there are heads of certain studios that carry business cards made on this printer," said Rex Weiner, the head of marketing and business development.

Today most work is done on a 1999 model six-color Heidelberg lithograph printer. The firm also has a digital printer, a Hewlett Packard Indigo 5000, used for smaller runs and capable of turning out 1,000 sheets per hour.

In addition to business cards, Harman generates door hangars, postcards, pamphlets, brochures, booklets, magazines, posters, retractable banners, limited edition books and posters, yard signs and banners.

Recent jobs include a billboard campaign featuring Korean singer Psy; the program for the Writers Guild of America Awards; a booklet promoting Quentin Tarantino film Django Unchained to Academy Award voters; menus for Sharky's Woodfired Mexican Grill; and brochures for the Hyundai Equus and Sonata hybrid. That Harman is a union shop affiliated with Teamsters Local No. 572 helps bring in political jobs.

Democratic candidates receiving union support like to use a union shop because it is an expression of their personal philosophy, said Larry Levine, a Sherman Oaks-based political consultant who has brought campaign printing jobs to Harman for 35 years. The digital age makes little difference when candidates want to get their names and views before voters. Printed material remains the most essential ingredient in voter contact, Levine said. "People do not use digital means to learn about candidates," he said. "Every candidate has a website but the number of voters who go online to learn is tiny."

Shrinking business
The commercial lithographic printing industry is big but shrinking business in the U.S. Despite rising costs of paper and ink, the shift to digital and online advertising, and consolidation within the industry, customers still need printed materials.

Total sales at commercial printers, excluding newspaper printing, fell 22 percent between 2008 and 2010 to $82.5 billion, according to the Printing Industries of America, a Sewickley, Pa.-based trade organization.

The Harman Press falls on the smaller side of the industry, but it is growing. The company had sales of $3.6 million for the fiscal year ending June 2012, and it projects revenue exceeding $4 million for the current year, said Berj Boghosian, the company's controller.

Harman makes up for its size with its longevity and customer loyalty. Those attributes also help in competing against other union shops such as Fox Printing Co. Inc. in Sun Valley, or those printers also doing entertainment industry work like G2 Graphic Service in North Hollywood and LAGraphico in Burbank.

Phil Goldner credits a strong work ethic, the family's leadership and his father's foresight in buying real estate so there was no landlord to pay. "We are on a solid foundation when there are variances in the economy," he said. Levine, the political consultant, cited two factors for his sticking with Harman since 1978. "One, in all those years they have never missed a deadline," he said. "Second, they are just nice people to deal with."