industry news
The Latest Industry News for the Exciting World of Production.
Creative Handbook puts together a bi-monthly newsletter featuring up-to-date information on events, news and industry changes.
Add My Email
By: Foam Mart
| March 29, 2013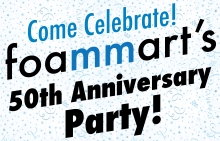 From Home to the Movies, L.A.'s Foam Mart Marks Golden Anniversary. Spongy, dense, fibrous or cushy...you don't think about it but everyone's got it. Foam comes in all shapes and sizes and is so commonplace in our homes and in our lives, we don't even notice it. Yet the best in the ubiquitous trade is gearing up to celebrate their 50 year milestone and padding it in style.

From 12pm - 6pm on Thursday, April 18th, Foam Mart welcomes the public to celebrate their landmark golden Anniversary with food, drinks and freebies! Located at 628 N. Victory Blvd in Burbank, CA, the store will offer 10% off purchases all day long, and raffle giveaways including futons, memory foam mattresses, bean bags, hats t-shirts and more!

Leading up to the public celebration, Foam Mart is a rare local business that has weathered and endured throughout the last 50 years. While other established businesses folded from California's bankruptcy, the nation's economy crisis and rising oil prices which drove up the cost of raw materials by 300 percent, Foam Mart has managed to swim to the top of the foam business thanks to community support and good old fashioned movie making. With sales over 2.5 million in 2012, the company is poised for expansion with a more streamlined and upscale version of the Foam Mart set to open May 2013 in Culver City.

# # #

About Foam Mart, Inc.
Foam Mart, established in 1963, is the largest Southern California distributor of specialty foam, fabric and supply. Based in Burbank, CA, the family owned and operated business for 50 years re-stuffs cushions and upholstery, sells foam furniture and bean bags, vinyls, furs, outdoor fabrics, and carries the largest selection of in-stock foam. The store custom orders any type of foam in any size, from special effects, props, sound proofing, stunt landing and body armour, to cushions and mattress. Rated A+ by the Better Business Bureau, Foam Mart's sales have surpassed 50 million since its inception with plans to expand operations in the summer of 2013.

Find out more online at www.foammart.com, on Facebook at www.facebook.com/foammart and on Twitter at @foammart1.