industry news
The Latest Industry News for the Exciting World of Production.
Creative Handbook puts together a bi-monthly newsletter featuring up-to-date information on events, news and industry changes.
Add My Email
By: Dan Harary
| March 14, 2013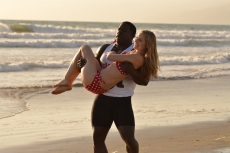 Big Logo Advertising in Partnership with Bavayou Films, LLC Creates and Produces Promotional Campaign for Clever Fit Health Clubs of Germany and Holland Marking Company's First International Project. Blue Room Post Provides Post Services for New Campaign to be Seen on German TV, in Theatres and Via Social Media. Creative services agency Big Logo Advertising, in partnership with Bavayou Films, LLC, has conceived and produced its first international campaign, one promoting the Clever Fit health club chain in Germany and Holland. Big Logo's sister company Blue Room Post is providing full service post production for the new campaign. To view this promotional spot, please see: www.youtube.com/watch?v=C5riP4OoruM

This campaign for Clever Fit will be seen across Germany and the Netherlands, beginning in April, on broadcast television, in movie theaters, and via social media sites. Clever Fit is the third largest health club chain in Germany, with over 120 locations, and membership numbering over 200,000. For more information, please see: http://www.clever-fit.com The Clever Fit promotional spots feature guest star Kali Muscle, currently one of the top bodybuilders working as an actor within the television advertising industry. Recently named "Mr. California" in 2012, Kali Muscle has appeared in dozens of high profile TV spots in the United States, including those for Comcast, Honda, Old Navy, Snickers, Geico, and many others.

Big Logo shot the Clever Fit promotional spots on a beautifully sunny Saturday afternoon during Feb. 2013 on Venice Beach, CA. The site was selected because of its historical significance-Venice, CA, was the birthplace of the modern day fitness culture - the original location of both "Gold's Gym" and "Muscle Beach," which helped turn such bodybuilders as Arnold Schwarzenegger and Lou Ferrigno into international superstars. In the Clever Fit promotional spots, we first see Kali Muscle working out on Venice Beach, propelling himself numerous times on the pull up bars. Kali then comes across a very pretty blonde woman sitting on a beach blanket aside her mild-mannered, and clearly out of shape, boyfriend. Kalie squeezes the man's flabby belly, as the man lets out a high pitched squeal. Kali eliminates the man, flirts with the beautiful woman, and ultimately carries her off into the sunset.

Riccardo Christ, Head of Marketing for Clever Fit GmbH, said, "Big Logo and Andre Enzensberger really delivered to us a fun, impactful promotional spot to help us get the word out there about the benefits of being in shape. The spot has humor, a pretty girl, and a super fit athlete all rolled into one clever and unique package. The fact that this spot was shot on Venice Beach, the home of the worldwide working out movement, makes the piece even that much more special. We believe our target audience will be moved to action by this spot, and we hope to see an increase in our membership numbers shortly after this spot breaks on TV, in theatres, and online." Director Andre Enzensberger, a German national who's lived in California for the past decade, said, "I think this commercial could really take off in Germany because it is such a fresh take on portraying the essence of being fit. It also has the right amount of American spice - so we are sending an exotic bird into the market there... and everybody loves exotic birds." Adds Steve Bland, Founder/Executive Producer, Big Logo Advertising, "We're pleased to have the ability to take our collaborative process and apply it to any type of client and communication challenge, regardless of geography. The entire creative staff for this campaign, along with the production crew, two of the three actors, and the editors, have all recently worked together on multiple projects in conception, production, and post. In fact, we like to think of our team as 'The Big Logo Players!'"



CREATIVE/PRODUCTION CREDITS FOR CLEVER FIT SPOTS
Writer(s): Andre Enzensberger, Steve Bland Director: Andre Enzensberger DP: Justin Harrison (shot on RED Epic) AD/Grip: Ted Walter Sound/Grip: Bobby Simpson Makeup & Hair: Stephanie Biefeldt DIT: R.A. Yarbrough Production Photographer: Betsy Enzensberger Production Designer: Steve Bland Post Supervisor: Tim Newenham Editor (CS6 Premiere Pro): Andre Enzensberger Motion Artist (CS6 After Effects): Bobby Simpson Sound Designer & Mixer: Steve Gregan Producer(s): Steve Bland, Andre Enzensberger CAST Muscleman: Kali Muscle Blonde Girlfriend: Caitlin Beitel Beach Boy in Chair: Mike Fierro
ABOUT BIG LOGO ADVERTISING
Based in Manhattan Beach, CA,
Big Logo Advertising
is a creative services agency that provides its marketing and promotional expertise to a diverse range of local and regional clients. The company specializes in creative campaign development and execution across all advertising platforms. For more information, please see:
http://www.biglogoadvertising.com/
ABOUT BAVAYOU FILMS, LLC
Bavayou Films
is devoted to the A-Z creation of a cutting-edge generation of new, indie films which help keep the independent filmmaking spirit alive. The company's documentary film on the life of an MMA fighter, "Occupation: Fighter," is currently #8 on iTunes Movies, in the "Sports Category." Please see:
http://www.bavayoufilms.com/
ABOUT BLUE ROOM POST
With state-of-the-art facilities located at both MBS/Raleigh Studios in Manhattan Beach, and at Raleigh Studios in Hollywood,
Blue Room Post
is a full-service production and post production company that provides media content solutions at reasonable prices to major movie studios and independent filmmakers, television networks, home entertainment companies, and corporations and brands. Founded in 2009, the company specializes in all areas of editorial, including offline, on-line, color correction, motion graphics, compositing, title design, digital dailies, wire clean up and restoration. BRP's audio services include ADR, sound recording and mixing, foley stage & sound design, narration & VO recording, music recording and sound editing. Other company services include finishing, Blu-Ray DVD authoring, visual effects and support services. Among the high profile projects to which Blue Room Post has provided its services are the TV series "The Closer," "Major Crimes" "Private Practice," "Castle," "Dallas," "Revenge," "90210," and "Longmire" Additionally, in the feature film arena, BRP has supplied source ADR for Marvel Entertainment's
Iron Man 2
and
Thor
, and temp ADR for the blockbuster movies
The Avengers
and
Captain America
. For more information, please see:
www.blueroompost.com