industry news
The Latest Industry News for the Exciting World of Production.
Creative Handbook puts together a bi-monthly newsletter featuring up-to-date information on events, news and industry changes.
Add My Email
By: Twee Tran
| March 14, 2013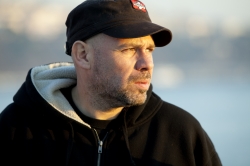 Saville has signed director Olivier Megaton for commercial representation within the North American territory. Olivier is best known for directing major Hollywood action films including Transporter 3 starring Jason Statham, the Zoe Saldana assassin movie Colombiana, and the Liam Neeson-fronted hit sequel, Taken 2. Taken 2 grossed over $350 million worldwide against a budget of just $45 million.

French-born Olivier chose the last name Megaton as an artistic homage to the anniversary of the
Hiroshima Atomic bomb on August 6th, which is the same date as his birthday. Olivier's cinematic
imagery arises from his background as a trained painter and graffiti artist where his artistry
flourished on city walls, and then transitioned from the landscapes of the streets to the walls of art
galleries. Subsequently, the renowned French photographer and director Jean-Baptiste Mondino
encouraged him to explore the film and directorial route.

Olivier's filmography also includes Exit, his first feature film, followed by the adaptation of Maurice
Dantec's novel The Red Siren. He also directed the Second Unit of Hitman with Timothy Olyphant. Oliver is set to helm the upcoming $60 million action-thriller Taking Gotham, a film based on real events and centers on a series of brutal robberies in New York City.

Olivier Megaton is an energetic addition to Saville's top stable of talent including some of
Hollywood's leading feature film directors: Martin Campbell (Casino Royale), Paul Haggis
(Crash), James McTeigue (V for Vendetta), Bryan Singer (X-Men), Gavin O'Connor (Warrior), and high-end commercials directors including: Alex & Steffen, David Harner, Sean Ellis, Richard de Aragues and Landis Smithers.

About Saville
Based in Los Angeles, Saville has produced hundreds of commercials worldwide with some of the most widely acclaimed, prominent award-winning commercial and feature film directors. Our directors have won numerous Academy Awards, Emmys, Golden Globes, Cannes Lions, D&AD's, Clios, and about every award in film, TV, Advertising and Entertainment.

Founded in 1995, Saville Productions is a growing transmedia company with a roster of some of the most talented commercial directors from around the globe, including Hollywood's most prominent filmmakers. Saville is currently developing, creating, and producing projects in
advertising, film, TV, branded content and videogames.

Saville has three commercial divisions: Commercial directors, Feature Film directors, and New
Media directors.