industry news
The Latest Industry News for the Exciting World of Production.
Creative Handbook puts together a bi-monthly newsletter featuring up-to-date information on events, news and industry changes.
Add My Email
Greetings from Brockett's Film Fauna!

By: Brockett
| March 12, 2013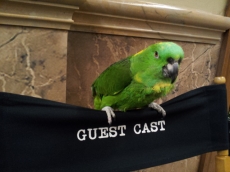 Brockett's Film Fauna would like to remind you to please think of us when booking any kind of ANIMALS for your next project. While we work on lots of projects with alligators and snakes, we also provide everything furry and feathered as well. Our latest addition to our Film Fauna menagerie are two adorable sugar gliders. Sugar gliders are small marsupials that glide through canopies with an acrobatic flare, and are native to Australia. They have very large eyes to help them see at night and a large bushy tail relative to their size which helps them balance. Their most unique physical feature is the skin flaps that they have which run along their sides stretching from their hands to feet. This is similar to the flying squirrel and acts as wings. We acquired our new sugar gliders 'Sweet and Low' from the department of Fish and Wildlife. They were confiscated for being sold illegally over the internet, we have them covered under our permits. We keep all of our animals legally and work hard to maintain the proper permits necessary for the state of California and internationally. All of our alligators and venomous reptiles are fully permitted. We happen to be the only animal facility in the state that have the legal permits to keep and work with piranha!

We have been busy working on lots of recent television shows and other projects. We would like to share some of our recent work with you. Petco Petco Petco! Keeping busy working with Smith Studios shooting the Petco print advertisements. Working all over beautiful San Diego with a beagle puppy, Saint Bernard, dalmatian, terriers of all sorts, cattle dogs, chihuahuas, a boston terrier, cats and more! Besides a lot of our reptiles being rescues, we rescue dogs as well. One of our rescues, a brindle terrier mix named Lacy just made her on camera debut for the Petco print ads. The Fox show "Bones" has been keeping us busy with bugs on bodies. This season has been consistent with past seasons by having cockroaches, maggots, and beetles as actors. We also recently had our chickens and a goat on an up-coming episode, including one of us as an actor! One of our favorite parrots just had a major roll on an episode of the t.v. show "Franklin and Bash." Sophia one of our yellow-napped Amazon parrots was handled a lot by the two main actors on the show. She rode on one of their shoulders during a court room scene and was even 'on the bench' as it were. The actor was a little reserved handling her at first and by the end of the shoot didn't want to say goodbye to her. It's always fun when the animal actors and the human actors they work with really bond behind the scenes. We also supplied thousands of bees for the same show.

We would also like you to know that we have lots of white homing doves/pigeons. They are perfect for weddings and music videos and can be released all over the greater Los Angeles area. They are trained to fly themselves back to our ranch! Also perfect for music videos is our large collection of pythons and boas. They add sex appeal and edginess to any project. We have tame handleable albino burmese pythons, diamond pythons, reticulated pythons, and red-tail boas. All are used to being put on actresses and actors, and are kid safe.

Our team hopes to see you on set soon!

Brockett's Film Fauna
Gina & Jim Brockett and dedicated staff
(805) 379-3141
brockettsfilmfauna@earthlink.net
LOOK US UP ON FACEBOOK, LOTS OF PHOTOS!