industry news
The Latest Industry News for the Exciting World of Production.
Creative Handbook puts together a bi-monthly newsletter featuring up-to-date information on events, news and industry changes.
Add My Email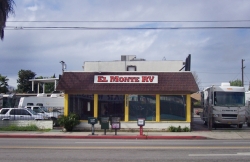 El Monte RV Studio Group announced today that it would be opening its office in Van Nuys at 6323 Sepulveda Boulevard to rent its full range of studio transportation equipment starting today.
"We've been told by transportation coordinators that they wanted to be able to rent our equipment closer to the studios. We decided to open up a location close to all the major studios to make renting our cast Trailers, fifth wheels, motorhomes, and dressing rooms, as quick, easy, and convenient as we possibly could," said Tucker Schork, Vice President of El Monte RV.
"This business is extremely important to us and we felt that it was critical for us to show the industry that we heard what they were asking for," continued Schork. "We have also undertaken a complete redesign of the interiors of our cast trailers. They now look like new luxury hotel suites."
El Monte RV Studio Group's new location is at 6323 Sepulveda Boulevard and within 15 miles of every major studio. For more information please call 800 337-2150.