industry news
The Latest Industry News for the Exciting World of Production.
Creative Handbook puts together a bi-monthly newsletter featuring up-to-date information on events, news and industry changes.
Add My Email
By: Allen Adams
| February 27, 2013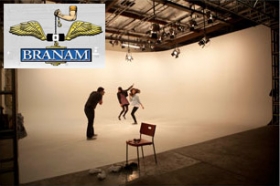 The company who has provided flying, rigging and truss systems for over 30 years now offers a green screen studio / cyc wall. Our new permanent studio is 30ft x 25ft x 15ft cyc wall with green screen. In addition, we have plenty of secured parking, craft service area, large makeup/dressing room, production/conference room and green room. The studio is available for one day rentals or long term productions. All rigging and lighting equipment in one location. We take pride in helping you achieve top-quality work.

Branam Enterprises continues to be the premiere flying, rigging and truss systems provider/fabricator, and offers many products and services to suit your production needs. We offer a complete line of services including: Equipment Rental and Grip Packages, Custom Design Flying Effects, Event Rigging Services, Consultation and Design, Truss Structures, Touring Rigging and Staff, Permanent Installations, Outdoor Roof and Stage Structures.

Branam Enterprises satisfies that need to a variety of service areas and customers; and even though we are located in Los Angeles, our client base is worldwide today. We take great pride in our work and safety is always of utmost importance to us.

Since we opened our doors, we have worked on many major projects. Perhaps you will find some that you are familiar with in the list on our website (www.branament.com). A video of some of my special flying effects is available upon request online too. If you have any questions or need any further information, don't hesitate to contact us.