industry news
The Latest Industry News for the Exciting World of Production.
Creative Handbook puts together a bi-monthly newsletter featuring up-to-date information on events, news and industry changes.
Add My Email
By: Chase Car, Inc.
| January 11, 2013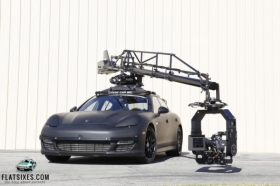 There are two key factors that make this camera car unique. First, and most obviously, it's built on a completely "murdered out" Panamera Turbo platform. However, it's not just the crane on top of this Panamera that makes it so different. It's the fact that it's a Panamera that can seat five. That's right, five people in a Panamera. No, they didn't remove the sport seats in the back and replace it with a bench. Instead, Chase Car Inc., the creators of this beast, modified the rear hatch area and retrofitted a jump seat.

Built specifically for the crane operator, this jump seat faces out the passenger side of the Panamera allowing for visibility to the driver's side of the subject car. Chase Car Inc.'s co-owners Marshall and Jon Chabot told us it faces this direction because 90% of the shots they take are of the driver's side of the car they are chasing. Makes sense.

These chase cars need room for five in order to fit the driver, a camera man in the passenger seat, the director behind the driver, the director of photography in the rear passenger seat and the crane operator, that's why you normally see these rigs built on a Porsche Cayenne (or other SUV). However, with the addition of the jump seat Chase Car's Panamera Turbo offers some significant advantageous over the Cayenne. Specifically, it sits two feet lower than the Cayenne providing better performance and handling on roads and tracks and with it's lower clearance it can easily fit under parking structures and on stages with sets.