industry news
The Latest Industry News for the Exciting World of Production.
Creative Handbook puts together a bi-monthly newsletter featuring up-to-date information on events, news and industry changes.
Add My Email
By: Lori Rubinstein
| November 19, 2012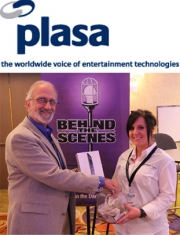 Robert Juliat's donation of an iPad mini to be raffled off at the recent PLASA Focus in Stamford, CT was the catalyst for a hugely successful event for Behind the Scenes. Sales of raffle tickets not only brought in $2,400 but led to additional sales at the BTS Boutique bringing the total raised at the show to $4,192.

Fred Lindauer, Director of US Operations for Robert Juliat, has been an enthusiastic supporter of Behind the Scenes since its inception. "For those of us who have been in this business for most our lives it hurts to see colleagues struggle in difficult times, and Behind the Scenes has made a difference. I personally know two of the recipients of Behind the Scenes grants and I know that their lives would be significantly different without them. Thank you to everyone."

Lori Rubinstein, a Foundation director and member of the Behind the Scenes Committee commented, "The folks at Robert Juliat were great at directing people to the Behind the Scenes booth to buy their raffle tickets and it gave us a wonderful opportunity to talk to them about the charity and the work we are doing to assist our colleagues in need. We are very grateful to Fred Lindauer and everyone at Robert Juliat for helping to make this such a successful event and for significantly raising awareness of the program."

Behind the Scenes provides financial assistance to entertainment technology professionals who are seriously ill or injured. Grants may be used for medical expenses or basic living expenses. Funds are available to anyone who has worked at least five years full time in the industry-whether behind the curtain or behind the camera, or for one of the companies who manufacture or supply products and services to the industry. Behind the Scenes brings help and hope in times of crises.

Individuals or companies can support Behind the Scenes by shopping the BTS Boutique or making donations online at www.estafoundation.org/bts.htm or by calling 212-244-1421.