industry news
The Latest Industry News for the Exciting World of Production.
Creative Handbook puts together a bi-monthly newsletter featuring up-to-date information on events, news and industry changes.
Add My Email
By: Juan Carlos Silva
| February 15, 2011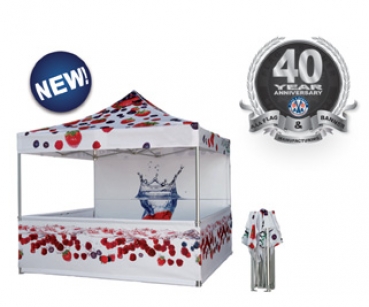 Over the past 40 years, AAA FLAG & BANNER has grown from a one-man operation to one of the nation's leading manufacturers of corporate and special event promotional materials. We have built our reputation on exceptional customer service and superior quality, making us one of the most trusted flag and banner companies in the industry.

New Products

AAA Flag & Banner Mfg. is excited to present a new generation of Display Tents...It has never been so easy to erect a tent up to 250 sq ft. With these products, you benefit from the union between the quality / security of your Frame Tent and the simplicity / efficiency of Pop Up Tents. We have 3 Unique Models to choose from:

Silver Editions Tent: The new Silver Edition Tent model gleams with brilliance. We've selected this structure for the qualities expected by our demanding customers wishing to have a canopy at a lower price. Extremely easy to use, reliable and robust, lightweight and handy, the Silver Edition Tent is designed to be set up in less than 30 seconds at any time and in any weather. Treat yourself to the new generation of canopies at an ultra-reduced price - with Silver Edition Tent!
Graphic Sizes: 10ft x 10ft, 10ft x 15ft, 10ft x 20ft

Gold Edition Tent: Strong, robust, light. The Gold Edition Tent is the most advanced of its generation. In constant evolution, our Gold Edition range will surprise you again and again. Revolutionary quick setup concept (without having to remove the roof) allow the Gold Edition to respond to the constraints that professional use generates. Today's best value on the market, it will become the privileged partner of all your outdoor activities.
Graphic Sizes: 10ft x 10ft, 13ft x 13ft, 10ft x 15ft, 10ft x 20ft

Platinum Edition Tent: We are proud to introduce the first tent worldwide that includes assisted elevation system using gas spring, making the Platinum Edition exceptionally efficient and available for everyone's use. (Find the product information sheet enclosed)
A new generation...Our brand new Platinum Edition Tent can be set up in 30 second without piecing together any loose part no need to remove the roof: win time, money, safety.
Graphic Sizes:
10ft x 10ft, 13ft x 13ft, 16ft x 16ft, 10ft x 15ft

To learn more please visit www.aaaflag.com or call us at (800) 266-4222 to receive your free quote today!