industry news
The Latest Industry News for the Exciting World of Production.
Creative Handbook puts together a bi-monthly newsletter featuring up-to-date information on events, news and industry changes.
Add My Email
By: Lori Rubinstein
| October 26, 2012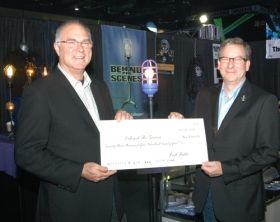 At the LDI tradeshow on Saturday, October 20th, ETC CEO Fred Foster presented a check for $23,423.67 to Behind the Scenes, which reflected ongoing proceeds from sales of their iRFR (Radio Focus Remote for iPhone and iPod Touch) application.

When ETC introduced the iRFR, which was developed by ETC software engineer Chris Mizerak, another employee, Luke Delwiche, suggested the profits be put towards Behind the Scenes and its UK counterpart Light Relief. Since then, both charities have benefited enormously. This check brought the total ETC has donated just to Behind the Scenes, from sales of the iRFR, to just over $100,000. Since 2007, ETC has also made additional annual donations to Behind the Scenes, apart from the application-related proceeds: this has now totaled an extra $50,000 of support to the fund.

The ETC iRFR application is purchased through iTunes for iPhones and iPod Touches that people already own - no special hardware or factory-coding is required. Users simply purchase the app that corresponds to the charity they wish to support.

ETC CEO Fred Foster says, "After seeing and hearing testimonials by Behind the Scenes grant-recipients, I am even more proud ETC is able to support the great work that Behind the Scenes does to help the most important part of our industry...the people."

ETC's donation was gratefully accepted by Rick Rudolph, the Chair of the Behind the Scenes Committee, who commented: "I know that the people who work for ETC and those who distribute their products are exceedingly proud to be associated with the company knowing how committed they are to caring for our colleagues in need by supporting Behind the Scenes."

Behind the Scenes provides financial assistance to entertainment technology professionals who are seriously ill or injured. Grants may be used for medical expenses or basic living expenses. Funds are available to anyone who has worked at least five years full time in the industry-whether behind the curtain or behind the camera, or for one of the companies who manufacture or supply products and services to the industry. Behind the Scenes brings help and hope in times of crises.
Individuals or companies can support Behind the Scenes by making donations online at www.estafoundation.org or by calling 212-244-1421.