industry news
The Latest Industry News for the Exciting World of Production.
Creative Handbook puts together a bi-monthly newsletter featuring up-to-date information on events, news and industry changes.
Add My Email
By: Kelly Fogarty
| February 14, 2011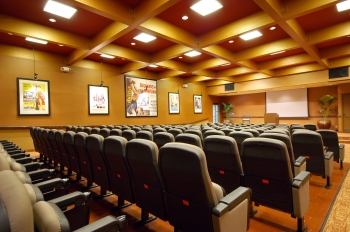 NORTH HOLLYWOOD, Calif. - The Beverly Garland was built in 1972 by Fillmore Crank for his wife, well-known Hollywood actress Beverly Garland. The Beverly Garland Holiday Inn, designed to evoke Hollywood glamour, is nestled on seven lush acres that Beverly's husband purchased from entertainment icon Gene Autry.

In keeping true to its Hollywood roots, the property is home to a 132-seat, state-of-the-art theater that is perfect for film festivals, private screenings, symposiums, continuing education seminars and much more. The theater is luxuriously appointed with plush comfortable chairs, retractable desks and fantastic retro Hollywood movie posters featuring Beverly Garland. The theater is part of the Garland Center which debuted its new look in the Spring of 2010 - including new carpeting, lighting and other cosmetic touches, all designed to provide a contemporary and versatile backdrop to which hosts and meeting planners can add their own unique touches.

The hotel's expert team works directly with meeting and event planners to provide a memorable experience within the theater like no other-going above and beyond to exceed the most discerning of expectations. The theater provides a fun and fantastic alternative to the traditional meeting space and has all of the built-in amenities needed for corporate presentations. To complement the meeting space, and the lovely Southern California weather, the Beverly Garland also offers 2,500 square feet of beautifully landscaped outdoor space- perfect for breakouts, cocktail receptions and more.

Set in a serene Spanish-influenced mission-styled hotel amidst all the glamour and excitement of Hollywood, the Beverly Garland features over 12,000 square feet of event space, including a Grand Ballroom, which can accommodate up to 650 guests. The hotel has long been a popular venue for meetings and events and with the recent redesign and upgrades to the property's nine distinctive meeting rooms, it has reclaimed it's position as a preferred venue for executive meetings, conferences, banquets, special events and weddings. The most recent changes took place within the Garland Center, which is comprised of six separate meeting spaces, including the Beverly Garland Theater.

All of the meeting rooms in the Garland Center have been outfitted with state-of-the-art technology, new carpeting, lighting and other cosmetic touches, all designed to provide a contemporary and versatile backdrop to which hosts and meeting planners can add their own unique touches. The new space coupled with the Beverly Garland's attentive catering team's meticulous attention to detail will ensure an unforgettable event.

The Father Serra Room, which seats 120 for a banquet, debuts a new modern look which will delight any event planner or bride-to-be with its warm creamy hues and spectacular details. Each of the four spaces in the Garland Center can accommodate up to 100 people separately. The Center when combined with the hotel's larger ballroom, which was renovated earlier in the year, offer more than 12,000 square feet of flexible meeting space perfect for an event of any size.

Influenced by the California Mission and Spanish Hacienda styles of architecture, each of the 255 guest rooms and suites include private balconies, many of which overlook the Hollywood Hills, Santa Monica and Verdugo mountains. In addition to the pool and fitness center, amenities include tennis courts, a children's playground, Tula's California Café and Decoy Lounge.

The Beverly Garland Holiday Inn is just minutes away from many of Hollywood's most popular destinations, including Universal Studios, Universal CityWalk, Hollywood and the Hollywood Walk of Fame, Dodgers Stadium and the Warner Bros Studios. The Beverly Garland Holiday Inn is located at 4222 Vineland Avenue, North Hollywood, California, 91602. For guestroom reservations, please call 1-800-BEVERLY or visit www.beverlygarland.com.

About Marcus Hotels and Resorts
Marcus Hotels and Resorts (www.marcushotels.com) owns or manages a distinctive portfolio of 20 hotels, resorts and other properties in 10 states, with three additional properties under development. The company owns eight hotels and resorts, is a third-party manager for 12 hotels, resorts and other properties and is providing technical and pre-opening services for the Carmel City Center Hotel in Carmel, Ind., and the 7th Wave Resort in West Warwick, Rhode Island.

About The Marcus Corporation
Headquartered in Milwaukee, Wis., The Marcus Corporation is a leader in the lodging and entertainment industries. In addition to its Marcus Hotels and Resorts division, the company's movie theatre division, Marcus Theatres®, owns or manages 678 screens at 56 locations in Wisconsin, Illinois, Minnesota, Ohio, North Dakota, Iowa, and Nebraska and one family entertainment center in Wisconsin. For more information, visit the company's Web site at www.marcuscorp.com.