industry news
The Latest Industry News for the Exciting World of Production.
Creative Handbook puts together a bi-monthly newsletter featuring up-to-date information on events, news and industry changes.
Add My Email
By: Dr. Christmas
| September 13, 2012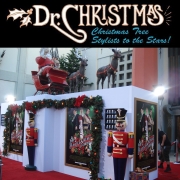 Start your fall season off right with a holiday jump-start at Dr. Christmas Rents' Parking Lot Sale at 1209 W. Isabel St., Unit 102B, Burbank, CA 91506 this Saturday, September 22nd from 8am - 4pm. After re-staging displays in the Prop House, there just isn't room to put it all back!

Set dressers and other industry professionals are welcome to tour the Dr. Christmas Rents' Prop House where they will easily be inspired. It offers "The A-Z of Christmas"; upscale decorating services, multicolored trees, garlands, wreaths, vintage props, Santa's throne, life size reindeer, and pre-wrapped gifts.

The variety and diversity of religious displays includes warm decorative ideas ranging from traditional to retro to high-end sparkling table settings to fantasy neon-colored garland, baubles and over-sized lollipops which are sure to get your attention.

Also, open to the Public, this Fall/Holiday Boutique sale will offer plenty of 'grab and go' holiday decorating bargains as well as gift items. Look for the signs on the corners of Burbank and Mariposa, Mariposa and Isabel, Victory and Isabel, and Victory and Burbank which will guide you to the parking lot entrances. The best entrances available are on Burbank and Isabel (both between Mariposa and Victory).

Since 1984, Bob Pranga and Debi Staron have owned and operated Dr. Christmas Rents, a holiday decorating company that provides custom Halloween, Thanksgiving, Hanukah, Christmas, Kwanza and special events design and décor for everyone from "the house next door" to celebrity clientele and businesses.

Celebrity clients include: Christina Applegate, Ryan Seacrest, Candice Bergen, Whoopie Goldberg, Nancy Reagan, Bob Hope, Shaquille O'Neal, Derek Fisher, James Cameron, Carrie Fisher, Paris Hilton, Andy Garcia, Marc Cherry, Teri Garr, Leeza Gibbons, Kate Hudson, Diane Keaton, Heidi Klum, Jaclyn Smith and Billy Bob Thornton. Prestigious locations include the Beverly Hilton Hotel, The Hollywood Museum, Tiffany & Co., Macy's, MGM, and Walt Disney Studios. Entertainment credits include TV shows, Up All Night, Chuck, American Horror Story and Glee; and Sony Picture's Arthur Christmas Promos and A Very Harold & Kumar 3D Christmas Hollywood Premiere at the Chinese Mann Theater.

For more information on services and rentals, visit: www.drchristmas.com or call 818-840-0445 or 310-854-0886.