industry news
The Latest Industry News for the Exciting World of Production.
Creative Handbook puts together a bi-monthly newsletter featuring up-to-date information on events, news and industry changes.
Add My Email
Clearly Not Your Ordinary Tent

By: A1 Party Rental
| September 4, 2012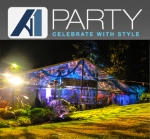 Keeping the sun off of guests is not the sole purpose of tenting an event. It gives the framework to create a unique event area. A made-to-order 80' X 120' clear structure was the backbone of an annual cocktail party in a spacious yard in Beverly Hills. The clear structure gave guests a view of the yard's beautiful landscaping and the mansion's Gothic Revival architecture. Decorators incorporated the yard's splendor by hanging decorative Willow garlands and Velon draping with twinkle lights creating a midsummer's dreamlike atmosphere. Furniture and other hanging décor gave the event an Arabian Nights feel. A unique view that party goers most likely missed was from the outside, where custom lights and décor from the inside could be seen through the structure's clear walls, making it look like a glowing, neon jellyfish.

Normally, such endeavors take heavy machinery to complete. However, the confines of the yard required A1 Party's Structures crew to use pulleys anchored to the mansion and a lot of elbow grease. The estate's poll and grotto area was also covered and decorated for the party, bringing the square footage of the backyard tent setup to a grand total of 16,800 square feet.

Decorating events is all about the transformation. Creating an environment that alters the everyday look and feel of an area will leave lasting impressions with every guest. Any size, any occasion, anytime, visit www.a1partyrental.com or call their showroom in Covina, CA at 1-866-217-2789 to find out how they can help you celebrate with style.