industry news
The Latest Industry News for the Exciting World of Production.
Creative Handbook puts together a bi-monthly newsletter featuring up-to-date information on events, news and industry changes.
Add My Email
By: Michael Rubin
| August 30, 2012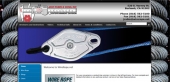 Jack Rubin & Sons, the leading supplier of rigging and safety equipment to the entertainment industry, is pleased to announce the launch of a new website -- www.jrsent.co. This website is the ultimate one-stop reference tool for anyone involved with flying, rigging, and using safety equipment.

The new site is packed with useful information for the newcomer and seasoned professional. You will find:

• Brochures and Instructions on how to use specific pieces of rigging gear

• "How to" and demo videos showing how the pros properly use the gear

• Technical information and certification information and compliances

• A complete inventory of safety and rigging supplies

• Conversion calculators and charts (both for metric sizes and weights)

The architecture and layout of the website is completely innovative and user. Built-in are features that allow you to have easy access to all the products, simple ways to create pdf pages to email, and the site is always updates ensuring that you are looking and the most up-to-date information available to the industry!

About Us:
JACK RUBIN & SONS, INC., established in 1945, is a California corporation with general offices in Compton, CA, manufacturing and warehousing facilities in Compton and Burbank, CA, as well as subsidiary companies in Arizona, Nevada, Utah and Idaho.

For over 60 years we have specialized in the distribution of wire rope, cable, rigging hardware and the manufacture of slings, lifting devices, and cargo handling gear. We are proud of our reputation for quality, service, and price. Because of it we have established many loyal and satisfied customers throughout the United States. Our policy of offering quality, service, and price - in that order - shall remain unchanged but we will continue to improve our facilities and add new products in order to provide you with the most complete "one-stop" rigging service in the West.
The purpose of this catalog is to afford you a handy reference to many of the outstanding products that we sell. We are pleased to represent these fine manufacturers for we know that their products are proven, promptly available and competitively priced. Our experienced sales personnel and rigging experts are always available for prompt and comprehensive assistance to you. A single phone call does the trick!