industry news
The Latest Industry News for the Exciting World of Production.
Creative Handbook puts together a bi-monthly newsletter featuring up-to-date information on events, news and industry changes.
Add My Email
By: Kathleen McCreary
| February 4, 2011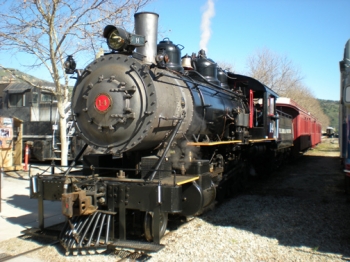 The #14, Baldwin Steam Engine 2-8-0 locomotive originally built in 1913 and restored in 2010 was introduced to the public at an open house Thursday, Feb 3rd. County dignitaries were on hand to present proclamations to the owners of Fillmore & Western Railway Co. in recognition of the outstanding and invaluable service to the communities along the Santa Paula Branch Line.

The #14 made her debut in December as it was put through her trials, while pulling "The Christmas Tree Trains". After intermittent rebuild projects spanning the last 5 or 6 years, a decision was made in March of 2010 to step up the effort and get the job done. In April an intense effort was put forth by Fillmore & Western Railway steam engineers to restore the locomotive to its original glory and their efforts have paid off with large numbers of "rail fans" flocking to the small community of Fillmore to get a glimpse of the newest steam "iron horse".

The locomotive has been converted from a coal-fired to an oil-fired and went through its initial trial runs fired by fuel oil. The locomotive has been outfitted to be fired by recycled vegetable oil and will be one of a handful of locomotives in the country to "go green".

The locomotive was purchased by Fillmore & Western in December of 1999 from Dodge City Railroad in Dodge City, Kansas and hadn't seen service on the rails since the 1960's. View photos taken that follow the day-to-day progress of the restoration on our website at www.fwry.com The railroad will next run the #14 at RailFest, on March 26 and 27th in downtown Fillmore. A steam schedule hasn't been finalized at this time, but after RailFest may be run the first weekend of each month. Continue to check out the website to find out when the #14 will run.

#14 was just one of the several locomotives and "movie props" on display during the Open House. Also featured besides #14 was the locomotive from "Inception", nominated for best picture at the Academy Awards. Among the other featured props were two mock locomotive cabs that were used in the filming of "Unstoppable".

For more information call 805-524-2546.